DNA Dinners showrunner Justin Harding on his horror ambitions
The Carved writer/director just won Hulu's first horror short competition and finished editing his first feature.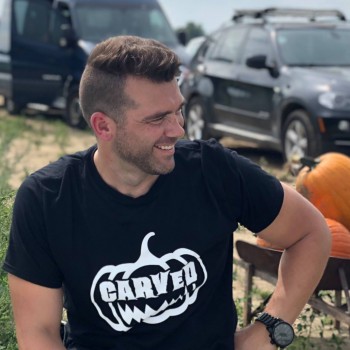 To say Toronto-based writer/director Justin Harding has had a busy week is an understatement. The DNA Dinners showrunner was working on finishing the first block of the Gusto Worldwide Media and Ancestry.ca series when he learned – on Halloween night – that he'd won Hulu's first online short film competition, Huluween.
The only Canadian competing out of eight selected filmmakers, Harding's scary short, Carved, a story about a boy who picks a pumpkin that ends up being an unusual Jack-O-Lantern, took home the top prize of USD $10,000.
Shot over the course of Labour Day weekend in Brampton, ON, Harding and other participants were given two weeks and USD $35,000 to bring their proposed projects to life.
"People tell you you're not supposed to work with puppets, children or animals because you can't direct them…We used all three on this movie," he said, referring to the film's live raven, the lead actor and its giant pumpkin puppet.
Winning all three judge's praise and earning the most views on Hulu's social platforms (to date Carved has over 30,000 views), Harding plans to use his winnings to develop another film, Astraphobia. The project follows three young sisters who find out their lineage is linked to an ancient curse.
"I want to terrify people in a way that's creative and original and that's what fuels me," he said.
In addition to his work on DNA Dinners, Harding has just finished editing his debut feature, Making Monsters with Toronto-based Buck Productions and Ontario's Ginger Cat Studios. He's also developing a surfing docuseries with his Bokeh Collective partner Rob Brunner.
With all his work in the TV and short film realm, Harding said he's passionate about both spaces and hopes to merge the two wherever possible.
"Telling cinematic stories like an indie film but broken up into eight or 10-episodes like Stranger Things or like The Haunting Of Hill House, that is the ultimate goal – to merge the two worlds," he said.
Carved was written/directed by Harding and produced by Brunner, Kris Elsley, Dale Andrews and Jason Kenny. The short is available on Hulu's platform and social channels. DNA Dinners will air on Thursdays at 10 p.m. on Gusto, starting on Nov. 15.