On the MIPCOM sales floor
Playback caught up with a few of the companies and execs who headed to the Palais to discuss how their corporate and content strategies paid off.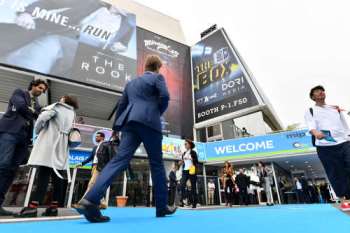 By Katie Bailey and Lauren Malyk
The mood at this year's MIPCOM market seemed overall quite buoyant from the perspective of Canadian producers, many of which have turned their business lens outward to the global market. And while buying conditions in Canada have contracted, the global market is seeing an unprecedented competition for content, as digital and traditional players alike jockey for content that will capture their target audience's attention.
For market veteran Christina Jennings, CEO at Shaftesbury, it was a "very good" year for MIPCOM, an event she says remains an important one on her company's calendar as it provides a strategic opportunity to meet with the international partners with which the company is in development. The market's Sunday is starting to build, she noted, with MIPJr ending on the Saturday and more events and meetings filling the day (a trend also noticed by Playback).
And in general, she said, opportunities seemed rife and of high-quality.
"I think the mood was good," she told Playback. "Deals were getting done and new projects getting set up. Netflix seemed to be there 'en masse' taking lots of meetings, copros continue to work. There was a lot of requests for shows with female leads. So all in all – very productive."
Gusto Worldwide's senior director of international sales Corey Caplan described his market as busy and successful. "Buyers from across the TV and VOD spectrum are keen to start partnerships with us by crafting volume deals, as seen with our recent SBS deal," said the exec.
Going into the market, Caplan told Playback Daily that he thought international buyers would want a large volume of content that comes with a multi-platform turnkey package, a strategy he saw reflected in the activity generated at Gusto's booth. And as for the overall mood of the market? Caplan said it was positive and that the competition between OTT and traditional buyers, in addition to demand for premium content, meant there were robust opportunities for buyers and sellers.
Over at Breakthrough Entertainment's booth, market vet Craig McGillivary, VP of distribution (a role he also held at Peacock Alley prior to joining Breakthrough) acknowledges that the overall size of the market has shrunk a bit over the past few years, but still represents good business.
McGillivary said the prodco's crime shows and docs moved well and generated a lot of interest for the company and that buyers consistently said they wanted "high-quality programming." He too noted that international partnerships were the talk of the market floor, and noted another strong emerging trend, and that's an increase in desire for partners to enter productions at earlier stages.
As hoped, Donnie MacIntyre, Portfolio Entertainment's VP of sales and business development, said he experienced the expected demand from global buyers for kids content with an emphasis on play, seeing the company's new animated kids series Addison (20 x 11 minutes, Six Eleven Media) generate interest on the sales floor
According to MacIntyre, both producers and distributors seemed to be optimistic and curious about the ongoing evolution of the industry. The VP noted that over the past few months independent distributors have experienced hurdles like M&A, changes to the landscape and SVOD acquisition tastes shifting, but that the industry is anticipating new buyers and new opportunities in the space with Disney and Apple expected to launch soon.
And representing the broadcaster POV, Corus used the opportunity to unveil Fire Masters (20 x 60 minutes, Architect Films), with a spokesperson telling Playback that "millennial-facing host Dylan Benoit was a hit with buyers, appealing to both male and female audiences." The company also saw action on its first factual series, Cream Productions' History Erased (9 x 60 minutes), proving market demand for pop-history content. An announcement on deals for Forte Entertainment's fashion competition series Stitched (12 x 60 minutes) are forthcoming, it was noted.
With files from Jordan Pinto
Photo credit: S. d'Halloy, Image & Co.