Pinewood Toronto 'ignites' expansion plans
New sound stages are set to open a year from now, extending the facility's capacity to around 525,000 square feet.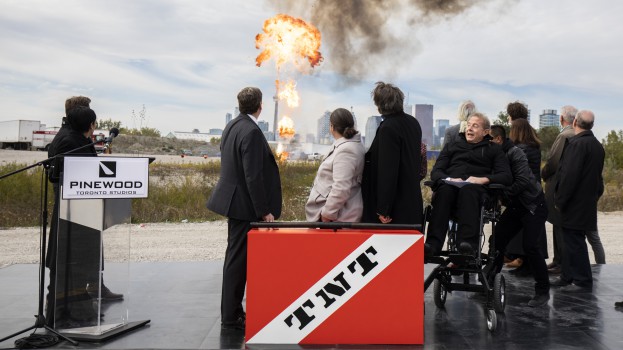 Pinewood Studios Toronto on Friday broke ground on a 200,000-square-foot expansion that, once complete, will extend the facility's capacity to roughly 525,000-square-foot.
Execs including Bell Media president Randy Lennox, Pinewood Toronto Studios president Nanci MacLean and board member Paul Bronfman were on hand to kick off the multi-stage expansion, which will see a number of new sound stages become operational in approximately one year. Details are still being ironed out on exactly how many stages will be added, MacLean told Playback Daily, though it will likely be between five and eight. The facility currently has 11 stages.
Pinewood Toronto said the expansion will make it the largest production studio in Canada. Over the past year the studio has hosted a number of high-profile TV and film projects, including Star Trek: Discovery, The Expanse, It: Chapter 2 and Scary Stories to Tell in the Dark.
Toronto Mayor John Tory was also present for the expansion announcement, which went off with a literal bang – and numerous controlled explosions (pictured).
The announcement comes five months after Bell Media completed its majority investment in Pinewood Toronto Studios. The media co first announced the transaction in late March. At the time, Bell Media said it intended to expand the facility by around 170,000 square feet – a total that has since been extended to 200,000 square feet.
"This ground-breaking has been, really, 10 years in the making," said Bronfman, who first invested in Pinewood in 2007, before the financial crash and a slump in Toronto production. "Fortunately we're here today, 10 years later, and we've got a new invigorated management team, and partners that really want to do some things. So the future of this business, I can honestly say for the first time, is looking really bright," he added.
Pinewood is not the only company expanding in Toronto's Port Lands area. In March, Cinespace unveiled its own plans to bring more studio capacity to the area. The company inked a 15-year deal with PortsToronto to develop Marine Terminal 51 and part of Toronto's Cruise Ship terminal into a new 165,000-square-foot production facility. The new space, set to be up and running by year's end, replaces Cinespace's 120,000-square foot Eastern Avenue site, which ceased operations in February.
In addition, Studio City Rentals was in August named as the new operator for the former Showline Studios complex, which had been unused since last fall. The company was selected after a Request for Proposals (RFP) process and entered into a five-year lease.