Media revenues decrease for Rogers in Q3
While overall revenues increased by 3%, lower Blue Jays' revenues contributed to a dip in the media segment this quarter.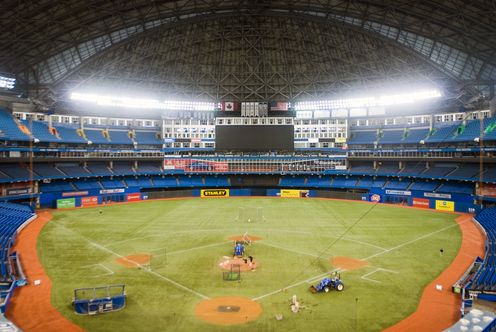 Rogers Communications' overall revenue increased by 3% in the third quarter of 2018, though its media segment did not contribute to those gains.
In its Q3 financial results announced Oct. 19, Rogers reported $3.77 billion in total revenues for the three-month period ended Sept. 30. While that's up from the same period in 2017, its media division, which is responsible for its print and digital magazine business, conventional and specialty television and the Toronto Blue Jays, did not share the same success.
Media revenue decreased 5% this quarter. Rogers cited the dip to lower revenues from the Blue Jays.
Rogers does not offer the detailed segmented media results; however, according to its earnings, media as a whole brought in $488 million, down from $516 million in Q3 2017. In the 2018 fiscal year to date, media revenues stand at $1.63 billion, about $10 million more than the first nine months of 2017.
Media's profits were also slightly higher for the quarter. Adjusted EBITDA was $156 million, up from $90 million. Rogers attributed the 20% growth to "lower operating expenses from improvements we made to our cost structure across the divisions." This past summer saw the layoff of 75 employees from Rogers' editorial and content division, representing about one-third of that staff. The current profit margin for media is 15%.
Much of Rogers' revenue growth came from its wireless division, which brought in $2.33 billion (up from $2.2 billion). It's also brought in $983 million in revenue from cable, up from $977 million.
President and CEO Joe Natale said residential internet growth is "solid." The fall saw the launch of the mass market awareness campaign for its new IPTV product, Ignite TV. While the product has only been in market since early September, Natale said that given Rogers' strong year-to-date performance, the company is raising its full-year guidance.
Initially, Rogers predicted that 2018′s total revenue would increase by 3 to 5% (up from 2017′s revenue of $14.37 billion); profits would increase by 5 to 7% (up from $5.5 billion); expenditures would fall between $2.65 billion and $2.85 billion, and free cash flow would increase by 3 to 5% (up from $1.69 billion). The company now predicts that profits will increase between 7 and 9%, and free cash flow will increase between 5 and 7%. No adjustments have been made to revenue or expenses.