365 days to '100 Days to Victory'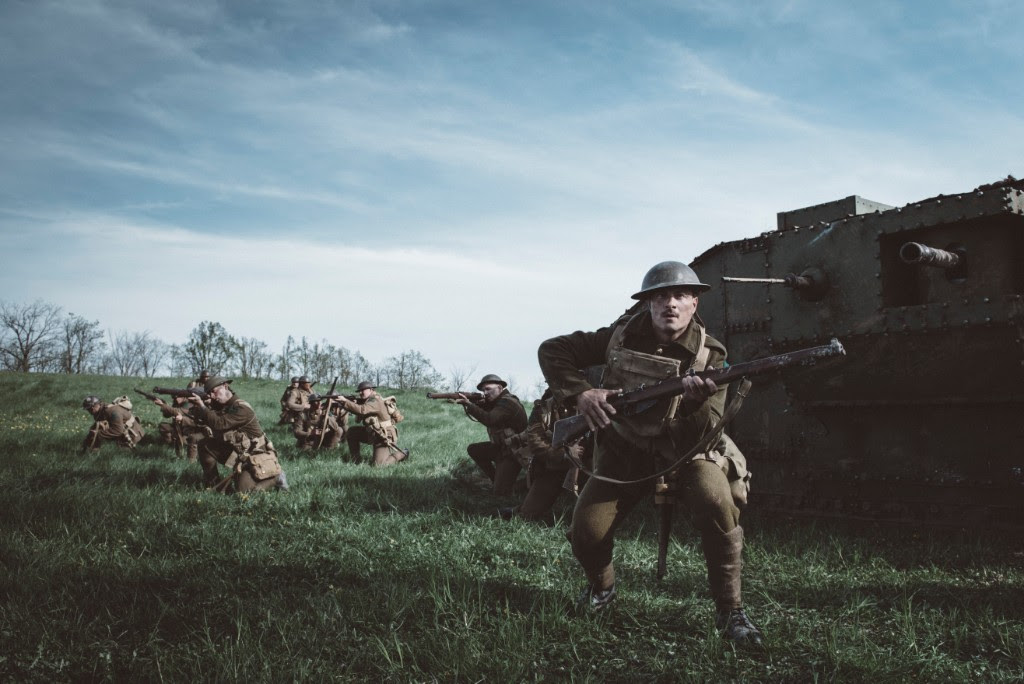 BGM founder Julie Bristow explains how the premium WWI docudrama went from start to the MIPCOM finish line in just over a year.
CANNES – A three-party international coproduction is by anyone's standard a complicated beast. There's the paperwork to process, time zones to battle, topical agendas to address, personalities to mesh and a million other influencing factors.
But as Playback caught up with BGM founder Julie Bristow at MIPCOM this week, the producer was in a buoyant mood, sitting on finished tape for 100 Days to Victory, the two-part docudrama commissioned by Corus' History, Australia's Foxtel and BBC Scotland.
Produced by BGM and Australia's Electric Pictures, the Australia-Canada copro went into production almost exactly a year ago. Since that announcement, the team: prepped, interviewed, shot authentic action sequences on location in Hamilton, posted it (including CGI segments) and delivered four different versions tailored for each client.
100 Days to Victory will air in Canada on History to coincide with Remembrance Day, which this year commemorates the 100th anniversary of the end of World War I.
The series, which rang in at a budget of just over $1 million an episode, tells the story of the final days of WWI, where Canada and Australia played a critical role in turning the tide in favour of the Allied forces. It focuses on the stories of the generals from five countries (Canada, Australia, France, Britain and the United States) and through that, the arrival of modern warfare tactics. The narrative structure served the series' multi-territory structure well and is why BGM and Electric ended up delivering four versions: each version features emphasis on a different general (in Canada's case, General Arthur Currie).
Bristow credits two primary factors in the prodcos' ability to turn the series around in a year. Firstly, the stakeholders all gelled. Despite a lot of executive producers in the mix, Bristow said everyone had a "like-minded" approach and the broadcasters "gave excellent notes and were well versed in history and wanting to find ways of telling stories that aren't as well told."
The second factor was operating efficiencies gained by BGM's still relatively new status as part of Kew Media. BGM's staff is now able to use Kew's Toronto production facility, and the company can access Kew support and assets on demand. It has also allowed BGM to do three series in the past year, all at MIP for sale: 100 Days, Paranormal 911 and Haunted Hospital.
Docudrama is a compelling area to work in right now, Bristow says, but also tough. It is competing directly for viewer eyeballs with premium dramas, and viewers have a high bar for quality, in both visuals and narrative. 100 Days' action sequences were designed and shot to look as good as a primetime drama, and its CGI elements crafted to support the story in key moments, such as illustrating the "Hindenburg Line," a German defensive barrier thought to be impenetrable, or new audio technology that allowed the precise triangulation of the source of artillery fire. It is narrated by Canadian actor Peter Outerbridge.
"We're not always going to do things that look this expensive," Bristow admits, explaining that the combination of the 100th anniversary, servicing multiple territories and executing an international coproduction meant a higher budget was needed.
People also expect more of their entertainment now, she notes, and if you want to sell it into educational institutions, teachers need stuff that can engage kids and not bore them on a topic they may feel is old-fashioned. "Teachers are dying to get this kind of programming: very high-energy edits and well-shot content, with CGI and graphics. It's very watchable."
The producers also engaged Toronto-based Relish Interactive to produce a handful of shorts to go along with the series for digital distribution. They will have a graphic-novel-inspired visual and narrative element, which again is designed to engage younger audiences.
The storytelling elements are designed to modernize the docudrama and, in terms of adults, reach both a "core" history-buff audience as well as people that enjoy a narrative approach to factual content. The fact that the team was able to pull together a production she feels genuinely can compete in a drama-saturated landscape is testament to the team assembled, she says.
"There's always trepidation about going into a large international production. But I'm a big believer that if you're able to bring together a bunch of smart, diverse people, the product is going to be better."