In brief: Whoopi Goldberg to narrate Nelvana animated short film
Plus: Jim Henson Company boards Omnifilm and Reality Distortion Field's Knights of Panterra, IMAX names a new president, and more.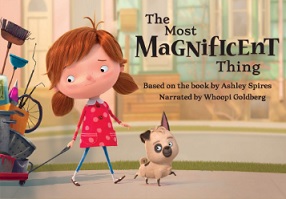 Whoopi Goldberg, Alison Pill join Nelvana short film
Whoopi Goldberg and Canadian actress Alison Pill have signed on to voice Nelvana's upcoming short film, The Most Magnificent Thing. Directed by Arna Selznick and written by John van Bruggen, the animated short is based on Ashley Spires' bestselling picture book of the same name. Goldberg will star as the film's narrator, with Lilly Bartlam (Total Drama Island) and Tony Daniels (Daniel Tiger's Neighborhood) rounding out the cast. Producers on the project are Pamela Slavin and Lynne Warner, with Doug Murphy, Spires and Scott Dyer serving as executive producers. Nelvana is handling international sales in the U.S. and internationally. The project, which is currently wrapping production, is set to launch at a number of film festivals in 2019.
The Jim Henson Company joins Knights of Panterra

Vancouver's Omnifilm Entertainment and L.A.-headquartered The Jim Henson Company have partnered to develop the live-action kids series Knights of Panterra. Based on Jeff Norton's novels, the series is set in a world where dinosaurs never became extinct and four ill-equipped teens must become freedom fighters to save their kingdom. Showrunner Simon Barry (Ghost Wars, Warrior Nun) will exec produce and oversee two of the show's scripts, with support from the Shaw Rocket Fund. The project was first announced last year when Omnifilm and Barry's Reality Distortion Field inked a development pact. Writers on board for the project include Rachel Langer (The Order) and Sam Ruano (Killjoys). Exec producers include Lisa Henson, CEO and president of the Jim Henson Company, Norton, Omnifilm Entertainment's Brian Hamilton, Zach Lipovsky (Kim Possible) and Jamie Piekarz (Super Mighty Makers). Lipovsky will serve as the project's lead director.
CBS gives full-season order to Missy Peregrym-starrer, FBI
CBS has given a full-season order to its new drama series FBI, starring Missy Peregrym, Zeeko Zaki, Ebonée Noel, Jeremy Sisto and Sela Ward. The U.S. net did not confirm how many additional episodes it had commissioned, beyond the initial 13-episode order. In Canada, where the series airs on Corus Entertainment's Global, the crime drama debuted to an audience of 2.27 million (2+) and held steady in its second week with an audience of 2.22 million (2+).
IMAX Entertainment names Megan Colligan president
IMAX has appointed Megan Colligan as president of IMAX Entertainment and EVP of IMAX Corporation, effective Feb. 19, 2019. Reporting to IMAX Corporation CEO Rich Gelfond, Colligan will be tasked with overseeing IMAX's Entertainment arm, helping grow international box office revenues, and cultivating strategic relationships and partnerships across the entertainment industry. Colligan's promotion will also see Greg Foster exit his dual roles of IMAX Entertainment CEO and senior EVP of IMAX Corp. His current contract concludes at the end of the year. Foster joined IMAX in 2001 and was upped to CEO of IMAX Entertainment in 2013.