Shaftesbury, Pope Productions unleash Rex
The eight-part series, commissioned by Citytv, is based on a European format about a detective and his hardworking dog.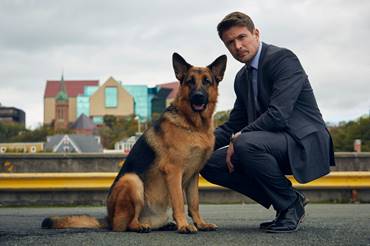 Citytv has ordered a new police procedural Rex (8 x 60 minutes) from Shaftesbury and Pope Productions.
Filming is underway in St. John's, Newfoundland on the series about a police detective (played by John Reardon) and his hardworking dog. Filming is scheduled to continue through December.
The show is based on the European hit format of the same name (produced by Germany-based Beta Film GmbH), which has aired internationally in more than 125 countries.
Starring alongside Reardon (Van Helsing, Continuum) are Mayko Nguyen (Killjoys, Fahrenheit 451) and Enrico Colantoni (Bad Blood, Flashpoint). Writers on the series are Ken Cuperus, Paul Aitken, John Callaghan, Jessie Gabe, Avrum Jacobson, Simon McNabb and Celeste Parr, while episodes are directed by Felipe Rodriguez, Alison Reid, and John Vatcher.
Rex is executive produced by Christina Jennings and Scott Garvie of Toronto's Shaftesbury and Paul Pope of St. John's-based Pope Productions, as well as Ken Cuperus and Avrum Jacobson. Exec producing for Beta Films are Friedemann Goez and Oliver Bachert, with Laura Harbin serving as supervising producer, Julie Lacey as producer and Lisa Porter as associate producer.
The greenlight announcement comes less than 24 hours after Rogers revealed it had greenlit another original series, The Murders, from Muse Entertainment. The show is currently in production in Vancouver.
Image: Shutterstock