Blue Ant acquires Saloon Media
The deal will see both companies expand their focus in the factual-drama space, capitalizing on Saloon's global partnerships and contributing to Blue Ant's growing network of prodcos.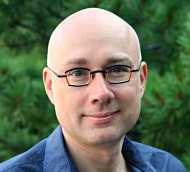 Blue Ant Media has acquired Toronto's Saloon Media, the boutique producer founded by Michael Kot (pictured) in 2013.
The deal marks what Sam Sniderman, Blue Ant's EVP global production, calls a "crucial" addition to Blue Ant's portfolio. The broadcaster, producer and distributor has been snapping up prodcos around the world – including New Zealand's NHNZ, Singapore's Beach House Pictures, London's Antenna Pictures, L.A.-based Blue Ant Digital Studios (formerly the production arm of Omnia Media), Toronto animation house Look Mom! Productions and Northern Pictures in Australia – but this is its first play at scale in the Canadian production space. (Blue Ant commissions series for its channels, and previously had an in-house content unit that serviced Love Nature and Makeful.)
Terms of the deal were not disclosed, however, all four of Saloon Media's core executives will remain with the company, including Saloon CEO Kot, executive producers Steve Gamester and Paul Kilback and head of production Betty Orr. No layoffs are planned as the companies merge; to the contrary, Kot says Saloon will be hiring as the company's production slate expands.
Following its launch in 2013, Saloon quickly made a name for itself in the factual space, with Kot bringing his years of experience to the genre from his previous roles as a senior factual executive at eOne, Canwest and Alliance Atlantis. By 2014, the company had three successful series underway: Tornado Hunters for CMT (which started as a webseries and turned into a 10-episode linear order), See No Evil, a returning series coproduced with the U.K.'s Arrow Media for Discovery ID U.S., and six-part U.K.-Canada copro Mummies Alive for History in Canada, Smithsonian Channel in the U.S. and Yesterday in the U.K. Since then, it has produced 2017′s 8 x 60-min Hunting Nazi Treasure (pictured) for American Heroes Channel, History in Canada and the U.K.'s More4 and service work on series including six-part miniseries The Kennedys for CNN and Raw TV.
It was the combination of high-quality production, international experience and complementary specialization to its prodco network that attracted Blue Ant to Saloon, Sniderman told Playback in an exclusive interview.
"We've been looking for a while to find the right company to join us. Everyone that I spoke to that I really respected in Canada pointed me in their direction. They aren't the biggest factual producer in Canada, but what they do is of exceptionally high quality and it resonates internationally. A great number, if not most, of their shows are made with international broadcasters, particularly in the biggest English-speaking markets of the U.K. and U.S., and they've worked with top production companies in those countries."
With Blue Ant headquartered in Canada, Sniderman says it was "crazy for us not to have a more substantial production business" in the country. "Despite all the doom and gloom you hear in the industry, we think Canada is a very good place to do business, particularly the way we are organized with our channels and distribution business."
From Kot's perspective, aside from the obvious benefits of having the assets and support of a large business and the reduction in risk that represents, the acquisition offers an opportunity to focus more on genres it may not have been able to capitalize on before due to its size.
Specifically, Kot wants to build out more "cross-genre" programming, an area in which he feels Saloon is cultivating an international reputation and which Sniderman agrees is rife with opportunity. Kot calls out Mummies Alive as an example, with its combination of historical factual, high-end recreated drama and animation. The strategy allows the companies to dip a toe in drama, while remaining focused on their areas of strength.
"We're going to be looking for these kinds of opportunities. We've been approached a couple of times for drama-focused productions, and because of the muscles we've built on the drama side for recreations, we're a step away from being able to do a crime series. So it's really interesting being able to pursue that a little more safely, but also freshen the genres, while trying to keep the financing and risk in check."
The merged companies Blue Ant represents are a particularly alluring opportunity for Saloon, Kot notes, because the company is keen to explore more high-quality animation in its re-enactments, a feature Kot says worked particularly well in Mummies Alive. Blue Ant has Look Mom! now in-house, meaning that instead of complicated back-and-forth, he'll have a whole studio at hand.
"I'll be able to walk across the hall and talk to Josh [Bowen, EP, Look Mom!] about how we might tell stories better," Kot says. "The tougher the stories are and the further in the past they are, where the people that you want to interview don't exist, the more it makes sense to use animation. It's also a wonderful way to evoke memory, and cue memory, instead of trying to do it with traditional drama."
It's these kinds of synergies that underpins Blue Ant's M&A strategy on the prodco side to date, explains Sniderman.
"It's crucial to our strategy that Saloon fit into our network of production companies. And they very much are a network. Even though they are run individually, it's expected that they work together on projects, share talent, share ideas and even share finance. There are not very many companies in Canada that we felt could do that as successfully as Saloon."