Deals: CBC, Gusto Worldwide, eOne
CBC inks deals for Barry Avrich's The Reckoning: Hollywood's Worst Kept Secret, Finding The Secret Path and Jessica Jessica, Gusto sells three originals, plus more.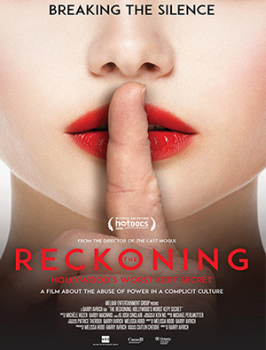 CBC
The CBC's newly rebranded licensing department, CBC & Radio-Canada Distribution, has acquired Barry Avrich's doc The Reckoning: Hollywood's Worst Kept Secret for international distribution. The film is a follow-up to Avrich's 2010 doc Unauthorised: The Harvey Weinstein Project, which examined the career and notorious temperament of the Hollywood producer. The Reckoning, which made its world debut at the Hot Docs International Film Festival, features interviews with alleged victims and whistle-blowers and details the aftermath of the allegations that created waves in the film and TV industry last October. In July, the project was acquired for U.S. distribution through global indie distributor Vertical Entertainment. The title will be among the projects CBC & Radio-Canada Distribution will be presenting at MIPCOM.
In other CBC news, the pubcaster will air Finding The Secret Path on Oct. 12, a one-hour documentary with never-before-seen footage of the last year of Gord Downie's life. Written, directed and produced by Mike Downie, the feature was produced by Stuart Coxe. Exec producers include Gord, Mike and Patrick Downie, Patrick Sambrook, Coxe and Craig Baines. This doc is the third in a trilogy, starting with The Secret Path (2016), an animated feature about Chanie Wenjack, a 12 year-old boy who froze to death 51 years ago after fleeing the Cecilia Jeffrey Indian Residential School; and Gord Downie's Secret Path in Concert (2017).
The CBC has also picked up the short Jessica Jessica for its Reflections indie film showcase. Co-created by and co-starring Jessica Hinkson and Jessica Greco, the short film about two different women in their 30′s was penned by Greco. Jessica Jessica is produced by Emily Andrews, Laura Nordin and Jen Pogue. Hinkson, Greco and director Jasper Savage serve as exec producers. The film will air on Nov. 13. Jessica Jessica recently took home the Breakthroughs Film Festival's Audience Choice prize and the Toronto New Wave Award in June.
Gusto Worldwide Media
Ottawa-based Gusto Worldwide Media has sold three original 4K Ultra High Definition series to ACCION, a Philippines-based international channel and distribution company. The total package consists of 121 episodes, 386 short form videos, original recipes and high resolution digital artwork. One World Kitchen (54 x 30 minutes), Flour Power (13 x 30 minutes) and A is for Apple (54 x 30 minutes), which will all air on ACCION's Poplife. Gusto has had a busy past few months, launching Gusto TV in Singapore on pay-TV operator StarHub TV and its OTT service StarHub Go, as well as on free U.S. OTT service XUMO. The company also recently sold eight original series and four specials to L.A.-headquartered TV streaming service Pluto TV. 
eOne
eOne has signed a raft of new licensing deals to drive the growth of its popular Peppa Pig preschool property in the UK. New licensees signed in the region include Fashion UK (kids and adult apparel), Great British Teepee Company (playhouses, luggage) and Pez (candy). To celebrate Peppa's 15th anniversary next year, eOne is also working on a number of exclusive partnerships and product ranges from Character Options (plush, figures), Penguin (books), Redan (magazine specials), Enseco (figurines), Gemma (partyware) and Fashion UK (party apparel). In addition, a nationwide cinema release of Peppa Pig: Festival of Fun! is planned for April 5. eOne is bolstering the brand abroad as well, with a Peppa Pig movie co-produced with Chinese distributor Alibaba Pictures set to debut in early 2019, and Alpha Group appointed as master toy partner in the region.
With files from Kidscreen