VIFF's Immersed tackles the thorny topic of ROI for VR content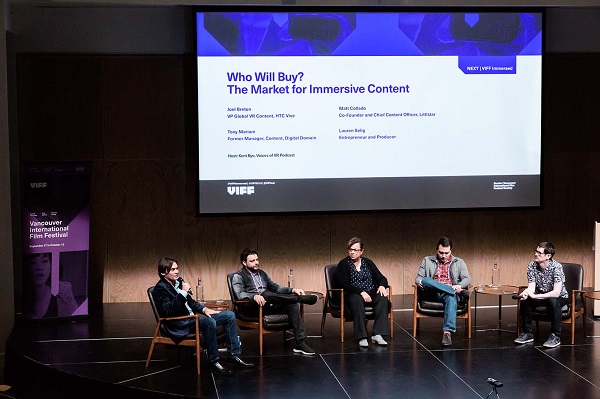 Not daunted by a still-nascent market, panelists at the fest's virtual reality-focused conference discussed creative ways producers are monetizing in the medium.
Many in the industry now acknowledge that virtual reality hasn't lived up to the hype in terms of mainstream adoption or even creative potential. According to Business Insider's "VR Hardware" report, sales of all VR headsets will hit just 13.5 million units this year, and that's not a big enough market for companies to turn a profit.
Joel Breton, VP of global VR content at headset manufacturer HTC Vive, told attendees at Vancouver International Film Festival's Immersed VR conference on Sept. 29  that until there are more than 20 million headsets out in the market, it will be hard for the consumer-side of the biz to take off and for content creators to make a sustainable living.
"I think it's very important for creators to have a real sense of that as well and be realistic about where the adoption curves are," he told Playback, following a panel discussion on the state of the VR market today."Today, [VR is] too clunky, we're too expensive and it's too difficult to find the great content. Those are the pain points that we're focused on solving."
As the industry waits for cheaper, more convenient and powerful headsets hit the market, panelists at the two-day conference stressed that there are clear avenues to successfully monetize virtual reality experiences in the meantime. Outside of enterprise VR and gaming, there are emerging markets for cinematic VR experiences.
Museums, festivals and VR arcades are currently driving the demand for cinematic VR experiences. Arcades like Toronto's LevelUp and L.A.'s TwoBit Circus are "hungry for content," said Matt Collado, co-founder and CCO of VR distributor Littlstar.
But if VR producers are creative about partnerships, there are other ways to turn a profit with location-based experiences, said Breton.
First, he said, creators need to think about who their project is for, and see if they can find companies or institutions that already speak to that audience. If a creator wants to make a VR piece about butterflies, for example, they could consider partnering with a botanical garden to help fund the production of the activation and give it a premiere in front of a receptive audience. The producer could then put the experience up for sale on distribution platforms such as Steam and Viveport. "That revenue is then icing on the cake because you've already funded your production through the activation. We're seeing a lot of smart producers do things like that," said Breton.  

Another door to knock on are malls, he said, which are "almost tripping over themselves" to acquire VR activations to drive traffic back into the buildings.
While location-based entertainment clearly offers great opportunities, during the Immersive Success Stories panel, Navid Khonsari, founder and creative director at New York-based production studio iNKStories, cautioned there are still kinks to work out. Namely, it can often take too much personnel to run an activation, while the number of people that can experience at a time can be limited.
One of iNKStories' experiences took four people to manage and could only accommodate one user every 10 minutes, for example. For the company to make a return on its investment, it would have to charge an "exorbitant" amount to consumers, he said.
His company is now working on creating experiences that can essentially be shipped in a container and dropped off at museums or cultural centres, so that they're more contained and take fewer people to operate.
What all the panelists stressed is that creators need to ensure their experiences have more than one point of sale.
"Get your content out as many places as possible and as many venues as possible. If you're thinking [location-based] LB don't just make it LB, make it viable on Steam or Viveport, anything that has a transactional or subscription-based system," said Tony Mariani, former manager of content at Digital Domain.
Creators also need to find ways to entice audiences into buying that content. For one of iNKStories' experiences, Khonsari said they offered the first few minutes of the story for free, confident that users would then pay to experience the rest. So far the results have proved them right, with more than 80% of users clicking through to purchase the experience.
That said, the market for VR is still in its infancy, and one of the major hurdles it faces is having enough quality content to encourage mainstream audiences to invest in the hardware (not to mention hardware that supports engaging content).  Companies like Oculus and HTC Vive, as well as funding bodies like the CMF and NFB, continue to support VR production, but there's not currently enough of that type of funding to meet creator demand.
To stand out in the application crowd, creators need to be able to sell funders on why VR is the only medium that is right for their project.
For Carlos Oceguera of Vancouver's Chimera Collective, which created Overlooked, VR was the best medium to plunge users into the issue of homelessness in Vancouver, which the experience does by having users walk the city's streets. Unlike a 2D film experience, he said, VR invites users into the issues. "VR has that moment where you are telling a story to someone and slowly you can show him that he is there, he is part of this. It's not something that's happening in front of him, he is here."
Breton said that it's experiences like this, that showcase VR and its potential, that HTC Vive is on the hunt for. "We're looking [to see] why it's important to have this piece of content in VR, why immersive tells the story better. In the cinematic category, that's the type of content we're looking for," he said, later adding that Vive is actively reviewing proposals.
While he said the company has so far had modest ambitions for its VR division and the market, he's certain it will become viable in the coming years.
"This market's just going to continue to grow and we think that by 2020 we'll be seeing a really robust ecosystem of everything from very low-end to very high-end VR and in the tens of millions of headsets, which will be a point for developers to really be able to recoup their investment and create meaningful businesses."
Image: Stephanie Lamy/Globe and Mail