Ricardo Trogi's 1991 breaks the $3 million mark
Les Films Seville's Victor Rego discusses the comedy's box office success and regional appeal with Quebec audiences.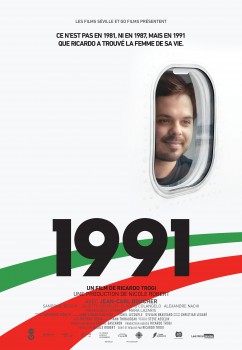 Ricardo Trogi's 1991 surpassed the $3-million mark at the Quebec office last week, making it the highest-grossing film of his autobiographical trilogy.
Produced by Montreal's Go Films and distributed by Les Films Séville, the comedy catches up with the writer/director as a 21-year-old who travels to Italy to pursue the woman he loves.
The original, 1981, which follows Trogi as an 11-year-old struggling to adjust to a new school, earned under $1 million at the box office in summer 2009. Meanwhile, its sequel, 1987, which details the writer/director's teen years, was the fourth-highest-grossing Canadian film of 2014, taking roughly $2.47 million in English and French theatres.
The final installment of Trogi's franchise made its debut in Quebec on July 25, earning a total box office of $275,543 (across 56 theatres) within its first two days. In its second week, 1991 crossed the $1 million mark and hit  $2.17 million in its third week. As of the week starting Sept. 14, 1991 was still screening in 33 theatres across Quebec.
Les Films Séville's EVP, marketing and distribution, Victor Rego told Playback Daily the film's sustained box office success has hinged on its ability to attract two audience groups. One, the typical Quebec feature "sweet spot" of audiences 35 and up. As well, a younger crowd that was drawn to theatres in the second and third week by word-of-mouth recommendations and buzz.
The exec added that an interesting facet of the film's success is that it has been embraced by audiences outside of  Montreal. "It kind of helps that Ricardo is from Quebec City, so [the film] radiates more with audiences across the province," said Rego, who noted that Séville made seven times more box office money outside of Montreal on 1991 than in central Montreal itself.
Although this regional appeal has been able to propel the feature forward in the Canadian cinema landscape, Rego says there are no plans to distribute the film theatrically in other territories. 

"Like huge box office successes in France or in Italy, [these successes] don't necessarily export because there's something so profoundly [unique to] the place," said Rego. "This was the case with the last two films as well."
Les Films Séville has had a successful run of sequels as of late, including De père en flic 2 and Bon Cop Bad Cop 2 which took home around $7 million each in 2017. Both of those films, however, were unable to eclipse the enormous success of their respective predecessors. The original De père en flic took more than $10 million at the domestic box office, while the original Bon Cop is one of Canadian cinema's highest grossing films with a domestic haul of more than $12 million.
Image courtesy of Les Films Séville