Netflix orders more sci-fi from Nomadic, High Park
The global streamer has added three series to its lineup, with a raft of Canadian creatives attached, including Simon Barry, who will serve as showrunner on Warrior Nun.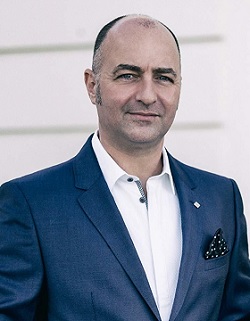 Netflix has ordered new sci-fi series from frequent Canadian collaborators Nomadic Pictures and High Park Entertainment.
Nomadic will produce I-Land, a seven-episode sci-fi adventure about 10 people who wake up on a treacherous island with no memory of who they are or how they got there. Neil LaBute (Van Helsing) will serve as showrunner and director, alongside director Jonathan Scarfe (Van Helsing) and writer Lucy Teitler (Mr. Robot). Nomadic's Chad Oakes and Mike Frislev will executive produce, with Teitler and Scarfe serving as co-executive producers. Petros Danabassis and series star Kate Bosworth will produce. 

Nomadic produced the short-lived Ghost Wars for Netflix, and received greenlights earlier this year for werewolf drama The Order and supernatural drama Wu Assassins. 
Meanwhile, High Park Entertainment, which is producing vampire series V-Wars for Netflix, will produce October Faction, in association with IDW Entertainment. Based on the IDW comic book series written by Steve Niles, the 10-episode series follows married monster hunters who return to their hometown and try to hide their identities. Damian Kindler (Sleepy Hollow) is creator, showrunner and exec producer, with John Calvert (Anne with an E) and Mohamad El Masri (Here and Now) producing. Exec producers are James Thorpe, Steve Niles, Thomas Walden and Eric Birnberg, with George Strayton and Melissa Blake co-exec producing.
Canadian directors who will step behind the camera on the project include Director X (Across the Line), Kindler, Megan Follows (Reign), Mina Shum (Meditation Park) and David Frazee (Orphan Black). 

Lastly, Simon Barry (pictured, Continuum) will serve as showrunner and exec producer on Warrior Nun, inspired by the Manga novels of the same name. The 10-episode series follows a 19-year-old woman who wakes up in a morgue with a new lease on life. Amy Berg (Counterpart) is a consulting producer on the project, with Stephen Hegyes (50 Dead Men Walking) exec producing and Terri Hughes Burton (The 100) co-exec producing.
The series announcement comes one year after Netflix unveiled Netflix Canada and committed to spending $500 million on original productions in the country over five years. In a blog post released today (Sept. 28), Netflix reflected on its investments in Canada over the past year, including shot-in-Canada series like Riverdale and hit rom-com To All the Boys I've Loved Before, and its partnerships with various cultural organizations.