Behind Creative Wealth Media and Bron's prolific partnership
Jason Cloth and Aaron Gilbert discuss how the companies have built a portfolio of nearly 70 features over the past five years.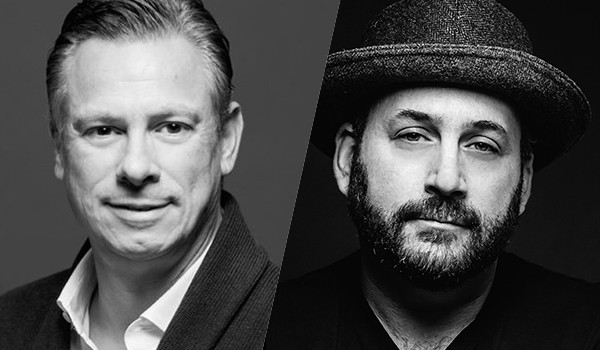 Creative Wealth Media's Jason Cloth first became acquainted with Aaron Gilbert in 2013 when the Bron Studios head was in a financing-related bind.
Bron was producing the feature rom-com Tumbledown, starring Jason Sudeikis and Rebecca Hall, but when a key investor pulled out on the eve of shooting, the Vancouver prodco was left scrambling to put the financing together to ensure production went ahead.
Gilbert knew of Cloth (pictured right and left, respectively) via a common connection, a lawyer, and through that link, asked Cloth to board the troubled project and help source the remainder of the film's financing. Cloth said the pair "just about squeaked out all of our money" on the project, laying the foundation for a prolific partnership that has seen the companies collaborate on almost 70 feature films over the past five years. Most recently, the companies have expanded into television together.
While only a handful of the films Bron and Creative Wealth have been involved with to date are certified Canadian (Into the Forest, Hyena Road, Parallel), much of the work that's done to get their projects to camera happens in Canada. Over the course of their collaboration, Bron and Creative Wealth have built out a made-from-Canada business model that sees the companies tapping into capital from both sides of the border to produce big-budget U.S. indies starring the likes of Tom Hardy, Denzel Washington and Charlize Theron.
According to Cloth, Bron and Creative Wealth have been financial partners on film projects totaling $600 million in production spending in the past year alone.
Ontario-based Creative Wealth specializes in debt financing for film and TV, sourcing capital from institutions such as pension plans, mutual funds and investment groups, while Bron is more focused on sourcing creative. In addition to heading up Creative Wealth, Cloth joined Bron Studios in 2014 in a strategic financial and investor management role, before later joining the company's board of directors.
When Cloth moved into project financing for film in 2013, he said he purposefully didn't want to hire people with extensive knowledge of the film business. "We have a lot of people with investment banking experience, but we deliberately don't have a lot of people with film experience. It's a very different skill set to be able to go out and raise money for film, without being blinded by Hollywood, the project and by the celebrity," said Cloth.
That detachment has served Creative Wealth well, said Cloth. "Typically in film you get the producer who's trying to aggregate money, and that's what turns off a lot of people who want to invest in film, because the producer's interests and the financier's interests are not the same," he said.
Gilbert adds that there is a "separation of church and state" between the companies.
And while Cloth and Gilbert's partnership has produced a fast-growing roster of projects, the financier said that in most cases when Bron brings a project to Creative Wealth the answer is "no."
"We come to odds sometimes because I have to focus on the business aspect of the project, where [Gilbert] starts off on the creative," he said.
This means Creative Wealth has passed on projects that have gone on to garner huge success, among them Dallas Buyers Club, which was presented to Cloth prior to Matthew McConaughey being attached. "It was a different film when we were pitched it, and we turned it down for different reasons," he said. "We have a fiduciary responsibility to our investors, so we can't, for example, take things just because Tom Cruise is attached. There's a much deeper evaluation process that we go through to take on a project."
This consists of a qualitative assessment in which Creative Wealth places a value on the project based on the IP or script, as well as the cast and the crew. Bron and Creative Wealth then delve into the underlying financials of the project to decide whether the sale of foreign and domestic rights will support the given budget of the project.
Creative Wealth and Bron's slate at TIFF '18 included The Front Runner, starring Hugh Jackman, and Sam Levinson's Assassination Nation, which was voted the second runner-up for TIFF's People's Choice Midnight Madness Award.
With a growing reputation, Creative Wealth's ability to source capital has grown significantly in the past two years. In this regard, one project in particular took Bron and Creative Wealth to the next level: The Birth of a Nation. "That was our lightning in a bottle – everything changed after that," said Cloth. Bron was one of four prodcos on the project, which was picked up by Fox Searchlight for $17.5 million at Sundance in 2016. Following its world premiere in January, the project gathered significant momentum and was discussed in Oscar contention until it surfaced that director Nate Parker had been acquitted of rape charges in 1999.
Despite the controversy that swirled around the film, it marked an important milestone for Bron and Creative Wealth. "What the film proved to everybody was that we had the qualitative chops to make an incredible film, to make the decision to finance what a lot of people thought was a difficult film, and to make it as good as it was," said Cloth.
The buzz generated by Birth of a Nation also overlapped with that of Fences, financed by Creative Wealth and coproduced by Bron, which was directed by star Denzel Washington. Fences went on to garner four Academy Award nominations, with Viola Davis ultimately winning best actress in a supporting role for her performance.
The combined momentum of the projects gave the companies a significant boost in terms of market visibility, ushering in what Gilbert dubs "Bron 2.0," and leading to a slew of high-profile projects, including Fonzo, starring Tom Hardy, The Good Nurse with Eddie Redmayne and Jessica Chastain, John Ridley's Needle in a Timestack and The Good Liar starring Helen Mirren.
This body of film work has allowed Creative Wealth and Bron to hit the ground running – rapidly – since they broke into the TV market last year. The move saw Bron partner with HBO's former EVP of programming Michael Ellenberg to form L.A.-based company Media Res, which has sold seven shows since it launched in June 2017. Among those is Shadow Play, coproduced with Munich, Germany-based prodco Tandem Productions, and a trio of series with Apple, including a TV series starring Reese Witherspoon and Jennifer Aniston as morning show co-hosts. "A lot of the international companies we're working with are attracted to working with us because of our visibility in Hollywood, and our ability to package and put together strong teams creatively, in front of and behind the company," said Gilbert.
The companies also have yet-to-be-announced projects in the works with HBO and U.S. net TBS, with Creative Wealth handling deficit financing on those projects.
Looking ahead, Cloth said the next evolution of the Bron-Creative Wealth partnership could see them break into the European market, with the companies looking at a number of prodcos as potential acquisition targets.
Sourcing more creative talent in Canada is also a future focus for Bron, added Gilbert. "We want to take advantage of our visibility both in the U.S. and overseas, and really try and be a company that can be a resource for young Canadian filmmakers," said Gilbert, adding that preliminary discussions are underway with national organizations to facilitate this.
As they move ahead, Cloth said the "symbiotic relationship" between the companies will continue to propel each to bigger and more ambitious projects, but he emphasized that – as they have have done over the past five years – they can only grow together. "Bron and Creative Wealth [would not be] this size without the other partner," he said.