Cineplex adding more immersive cinemas across Canada
The cinema giant is expanding its partnership with CJ 4DPLEX to add up to 13 new 4DX locations.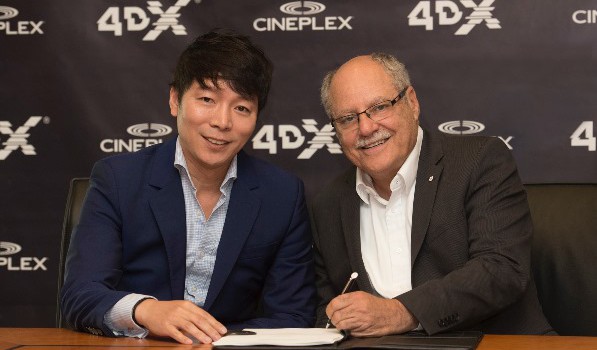 Cineplex is expanding its premium-experience offering, partnering with cinema tech company CJ 4DPLEX to add up to 13 new 4DX locations across Canada.
The companies first partnered in 2016, opening a 4DX theatre in downtown Toronto. The immersive theatre features special effects such as motion-synchronized seats, as well as wind, mist, snow and scent – all aimed at enhancing the movie-going experience. The cost of the enhanced experience is $21.99 for a general admission ticket.
While Cineplex would not provide specific audience data for its 4DX auditorium, the company's director of communications Sarah Van Lange told Playback Daily, "4DX is without a doubt a key attendance driver and is one of our top performing enhanced movie experiences."
Cineplex had a record second quarter this year, with revenues hitting $409.1 million, in part due to a 9.7% increase year-over-year in box office revenues. Box office revenues per patron in the quarter hit a record high, reaching $10.82, up from $10.32 the year prior.
Calgary's Scotiabank Theatre Chinook will be the first location to begin construction on a 4DX auditorium. Additional markets will be announced in the coming months. The opening of the Toronto location marked the first 4DX auditorium in Canada and the 300th in the world. To date, there are 561 4DX auditoriums in 59 countries, including the U.S., and countries throughout Europe and Asia.
In addition to the 4DX expansion, Cineplex announced earlier this month that its signed a strategic partnership with location-based VR company VRstudios. The agreement includes a commercial partnership and an investment by Cineplex to acquire a significant ownership interest in VRstudios.
Through the deal, Cineplex plans to roll out 30 to 40 virtual reality installations at locations across Canada by the end of 2021. Cineplex already installed a VRstudios attraction at The Rec Room in South Edmonton.
"We are not just deploying VR across our network, we are strategically investing in the market to create new revenue streams as well as critical mass and scale for growth," said Ellis Jacob, president and CEO, Cineplex, in a statement.
Image L to R: Brandon Choi, CEO of CJ 4DPLEX America, Ellis Jacob, president and CEO, Cineplex