Loretta Todd's Monkey Beach rolls in B.C.
The filmmaker's first full-length narrative feature, which stars Adam Beach and Grace Dove, is produced by her Mama-oo Pictures shingle and Reunion Pacific Entertainment.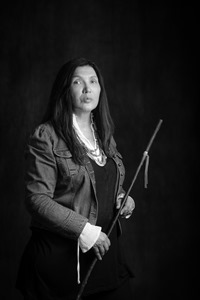 Writer/director Loretta Todd (pictured) has started production in Kitimaat, B.C. and Vancouver on Monkey Beach, a feature adaptation of Eden Robinson's Giller Prize-nominated novel of the same name.
The film follows a hard-partying woman with the power to foretell death, who must return to her village when her brother goes missing. The film stars Grace Dove (The Revenant), Adam Beach (Arctic Air), Glen Gould (Through Black Spruce) and Nathaniel Arcand (Heartland).
Todd's credits include Coyote's Crazy Smart Science Show for APTN, and 1999 documentary Today is a Good Day: Remembering Chief Dan George.  Monkey Beach marks the Cree-Metis filmmaker's first full-length narrative project.
Monkey Beach is produced by Todd's Mama-oo Pictures and Reunion Pacific Entertainment. Lisa Richardson, Paddy Bickerton and Matthew O'Connor of Reunion Pacific will produce, alongside Jason James of Resonance Films. Executive producers on the project are Tom Rowe, Patti Poskitt, Fred Fuchs and Anne Wheeler. In addition to Todd, Johnny Darrell and Andrew Duncan are also credited as writers on the feature. It will be distributed in Canada by Isuma.
The project received financing through Telefilm Canada's Aboriginal Film Fund. It was supported by The Movie Network (TMN), The Harold Greenberg Fund's Script Development Program, APTN and CBC Films. It was also produced with support from the Haisla Nation Council.