Angelique's Isle, Bingo head to imagineNATIVE
The festival's 2018 lineup will present 10 dramatic features, including Marie-Helene Cousineau and Michelle Derosiers' Angelique's Isle and the debut feature from Marjorie Beaucage.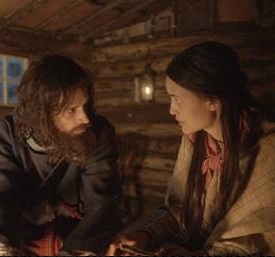 ImagineNATIVE Film + Media Arts Festival has unveiled the full programming lineup for its 2018 edition, including the largest slate of dramatic films in the festival's history from filmmakers such as Marie-Helene Cousineau, Michelle Derosier and Lucy Tulugarjuk.
All told, the festival will include 10 dramatic features, including Lucy Tulugarjuk's Tia and Piujuq, produced by Marie-Helene Cousineau, who is also presenting Angelique's Isle (pictured) at the fest, which she co-directed with Michelle Derosier.
Other dramatic films added to the lineup include the sci-fi Akornatsinniitut – Tarratta Nunnaanni (Greenland) from Marc Rosbach, Adam Khalil and Bayley Sweitzer's Empty Metal (U.S.), Itandehui Jansen's Tiempo de Lluvia (Mexico) and Toyon Kyyl (Russia) from Eduard Novikov, among others.
This year's fest will present 153 individual media works and see 156 Indigenous artists representing 109 Indigenous nations from Canada and around the world. More than half (55%) of the selected projects hail from female directors, while male directors make up 42% of the festival's program, and non-binary or Two-Spirit directors account for 3% of its programming.
This year's imagineNATIVE will also feature an In Conversation with prolific documentary filmmaker Alanis Obomsawin, who will present a clip from her upcoming doc (slated for completion in 2019); an artist spotlight on Two-Spirit elder, filmmaker and activist Marjorie Beaucage, who will present her debut film BINGO (1991) as part of a retrospective; and a screening of Zacharias Kunuk's Kivitoo: What They Thought of Us (Canada), which will make its Toronto premiere.
As previously announced, Darlene Naponse's Falls Around Her (The Film Farm and Baswewe Films), will open the fest on Oct. 17. The drama, which premiered at TIFF, stars actress Tantoo Cardinal in her first lead role  in a feature-length film.
Meanwhile, another Canadian film (that also bowed at TIFF) will close out imagineNATIVE's festivities. Set to screen on Oct. 21, directors Gwaai Edenshaw and Helen Haig-Brown's Sgaawaay K'uuna ("Edge of the Knife") is the first feature ever made in the Haida language. Produced by Niijang Xyaalas Productions, Sgaawaay K'uuna tells the story of a tormented man who retreats deep into the forest where he is transformed into the wildman Gaagiixiid.
The festival's shorts section will include Voices from the Western Regions of Turtle Island, a program curated by this year's guest programmer Dorothy Christian; Electro, a program dedicated to Indigenous music videos and talent; the annual late-night comedy and horror shorts section, The Witching Hour; and Cause + Affect, a look at the relationship between parents and children.
For the first time imagineNATIVE will present INdigital Space, a large-scale interactive showcase of more than a dozen VR, games, online platforms and digital webseries at the TIFF Bell Lightbox.
In addition, the festival has added the imagineNATIVE Art Crawl. Sponsored by RBC, the event examines a wide range of works from Indigenous artists, with stops at six art galleries. In addition, imagineNATIVE's music showcase The Beat,co-presented by Revolutions Per Minute,  will take place on Oct. 20 at Lee's Palace. The Beat will feature performances from Silla + Rise, Chhoti Maa, DJ Boogey the Beat and 2018 Polaris Music Prize short-listers Snotty Nose Rez Kids.
imagineNATIVE runs from Oct. 17 to 21 in Toronto.