APTN sets up Anaana's Tent
The English-language children's variety show, produced by Taqqut Productions, aims to teach kids Inuit values and Inuktitut words.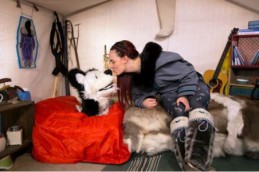 Kids variety series Anaana's Tent is set to debut in English on APTN on Sept. 15.
Produced by Iqaluit-based Taqqut Productions, the preschool TV series mixes live action, puppets and animated segments to teach kids Inuit values, along with basic words in the Inuktitut language. It originally debuted in the Inuktitut language in spring 2018.
The series (13 x 22 minutes) is written, directed and exec produced by Neil Christopher, with Inuktitut language specialist Louise Flaherty and art director Danny Christopher also exec producing. It is hosted by Rita Claire.
The series aims to preserve the Inuktitut language for the next generation of Inuit children, and also teach other Canadians about the North and its Indigenous communities.
Writers on the show are Nadia Mike, Roselynn Akulukjuk, Neil Christopher, Daniel Christopher, William Flaherty, Maren Vsetula, Champagne Brittany Choquer, Philip Eddolls and Martha Grant. Directors are Mike, Akulukjuk, Eddols, Neil Christopher, Daniel Christopher and Patrick Beland.