Playback's 2018 Hall of Fame: Atom Egoyan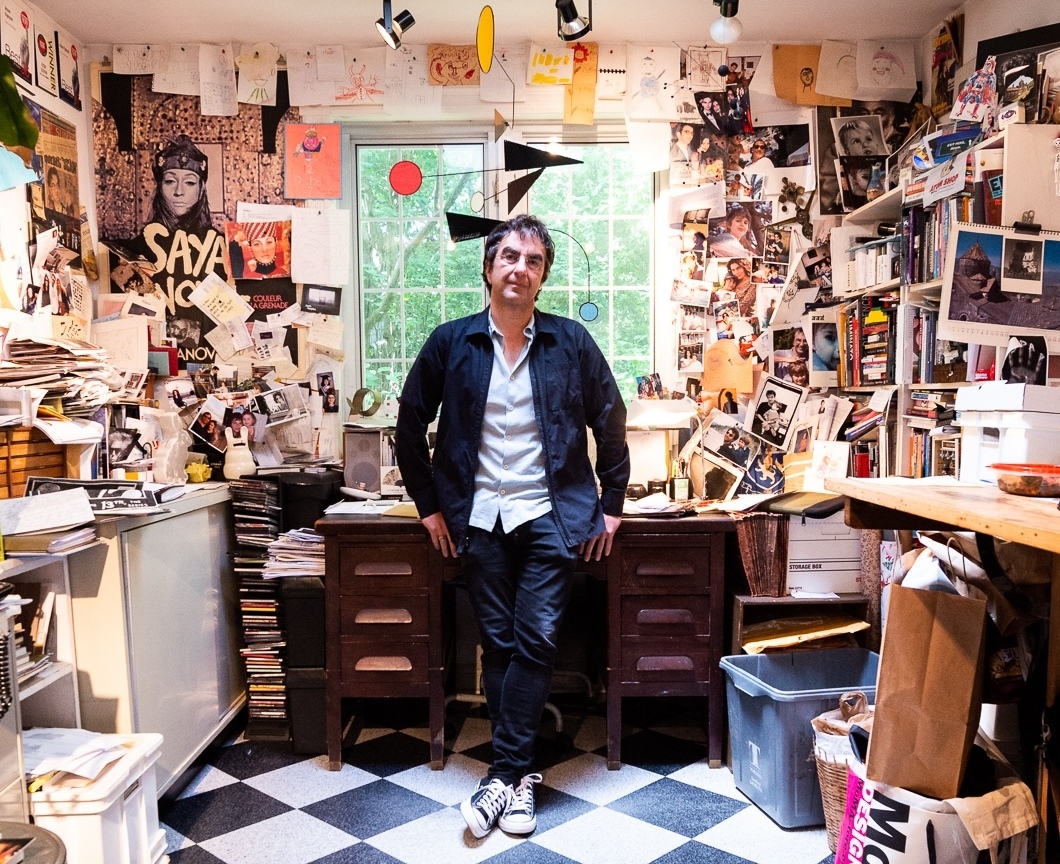 The auteur gained an international reputation for uncompromising, publicly funded films, and continues to build his body of work with more mainstream projects.
You could call Atom Egoyan the Peter Pan of Canadian indie cinema. At 58 and after nearly 35 years in the biz, he has not noticeably aged, nor has his passion to create dimmed. Of course, the world of his movies is darker than Neverland – marked by tragedy, loss, and obsession. These are the kinds of stories he is compelled to tell, and they have earned accolades from high places, including Academy Award nominations for best director and adapted screenplay for 1997′s The Sweet Hereafter.
The cerebral filmmaker, born in Cairo of Armenian-Egyptian parents and raised in Victoria, has 15 dramatic features to his name: from Next of Kin (1984), which garnered a Genie Award nomination for direction, to Holocaust revenge-thriller Remember (2015), which screened in competition at the Venice Film Festival. And he's not slowing down, with two new films in the works.
The first, set to roll in October, is Guest of Honour, produced by The Film Farm with Telefilm Canada contributing to an estimated $6 million budget and Elevation Pictures distributing.
The plot, typically fragmented and mysterious, recalls earlier examples of characters with peculiar jobs that bring them into contact with a variety of people, such as 1991′s The Adjuster. That feature – the director's fourth – brought him a new level of acclaim, screening at the Directors' Fortnight in Cannes and winning the Moscow International Film Festival's Special Jury Prize.
"Guest of Honour is about a food inspector who brings a lot of personal history to his inspections," Egoyan explains in his downtown Toronto office, the walls of which are papered with decades' worth of curios, clippings and photographs. There is also a letter from a woman who complained that her vacation was ruined by watching The Sweet Hereafter on her plane ride home.
"He expects restaurants should maintain a high standard – like the standards he tries to apply to his own life – but there are huge challenges to that," the director continues. "His daughter's in jail for a reason he can't comprehend. He visits her regularly and as he's trying to parse out why she's there, he plays out his frustrations on these restaurants, many of them ethnic."
He has a lead actor in mind whom he cannot yet name. But it's a safe bet Arsinée Khanjian will make an appearance. Khanjian met Egoyan while performing in Next of Kin and later married him, and has appeared in most of his productions since. The success he has enjoyed, he says, "I share with this amazing partner I found. Meeting Arsinée has been an incredible part of the journey."
The filmmaker's other project is more international and greater in scope. Virgin Town, based on the novel The Lost Daughter of Happiness by Chinese author Geling Yan, tells the story of a love triangle amidst the formation of San Francisco's Chinatown in the 1870s and sex slaves brought over from China. Yan met Egoyan when they served on the jury at the 2016 Shanghai International Film Festival and spoke admiringly of his work.
A Chinese producer is attached and Egoyan has written a script. With a budget around $20 million and two main Chinese parts, it would likely not be made as Cancon, although a China-Canada coproduction is possible and Egoyan would like to shoot it in his hometown of Victoria, home to North America's next-oldest Chinatown after San Francisco.
The film would be aimed largely at a Chinese audience, but the script recalls a shameful part of the country's history and would have to clear local censors.
"We have to get approval beforehand to set it up as a coproduction and have proper access to that market," Egoyan says. "It's a matter of financing it in a way that allows me to have the creative control I need. I can't have someone looking at every decision I'm making, given the provocations of the script."
Some of Egoyan's most commercially successful movies have been the ones with the most overtly sexual themes, even if the stories actually are more downbeat than titillating.
The Adjuster was the first of many Egoyan films Charlotte Mickie sold through Alliance Communications' foreign sales division when home video was booming. "Atom already had a following and there were distributors who adored his films and him as a person. We sold more than 40 territories on The Adjuster," she recalls.
But follow-up Exotica (1994), which Egoyan produced with frequent collaborators Camelia Frieberg and then-Alliance head Robert Lantos, took things higher. Set in a strip club, it concerns a patron (Bruce Greenwood) haunted by the deaths of his daughter and adulterous wife. It is a classic Egoyan construct, presenting a set of bizarre relationships that are slowly disentangled until we finally understand them.
It screened in competition at Cannes, and hype was so strong that when Alliance held a seat for Miramax head Harvey Weinstein, it incurred the wrath of French cinephiles desperate to get in.
Exotica and follow-up The Sweet Hereafter each sold in more than 100 territories. Mickie says Egoyan's movies have performed well not only in France, where the notion of auteur cinema originated, but as far off as Asia.
Miramax picked it up in the U.S., and the movie, made on a $2 million budget that included $900,000 from Telefilm Canada and $700,000 from the Ontario Film Development Corporation, collected more than $5 million at the North American box office – the best ROI of the director's career.
It won Cannes' international critics (FIPRESCI) prize and eight Genie Awards, including best picture, and director and original screenplay for Egoyan. In the greatest-movies poll conducted in 2012 by the British Film Institute's Sight & Sound magazine, three critics – none Canadian – include Exotica on their all-time top 10 lists, alongside such classics as Citizen Kane and 2001: A Space Odyssey. (The Sweet Hereafter and 1993′s super-low-budget Calendar get one mention apiece.)
Egoyan, who participated in the poll, was not aware of this, and when it is pointed out to him, is momentarily speechless.
Finally, he offers, "It was difficult to make on that budget, and I'm in awe of what my crew and art team were able to produce. I don't think that script would survive the financing process now. It's very enigmatic and sparse. If it is that esteemed, it's the product of a system that's very particular to this country and I'm thankful for it."
Telefilm has never declined financing an Egoyan movie, although more recently he has chosen to work outside the public-funding system. In the case of Chloe (2009), Canadian-born, Hollywood-based Ivan Reitman approached him to shoot a script by Erin Cressida Wilson adapted from the French erotic thriller Nathalie… with backing from Europe's StudioCanal.
Featuring a graphic sex scene between Julianne Moore and Amanda Seyfried, the movie boasts the biggest box-office haul of Egoyan's career (US$12 million worldwide on a budget shy of $20 million) and opened his eyes to playing "director for hire."
He would do it again on Hollywood production Devil's Knot (2013), starring Reese Witherspoon in a ripped-from-the-headlines account of the Arkansas murders attributed to the West Memphis Three, and Remember, starring Christopher Plummer and produced by Robert Lantos and Ari Lantos.
Sandwiched in between is The Captive (2014), which marked a return to self-generated projects. Co-written by David Fraser, it marries such popular Egoyan themes as endangered children and voyeurism with the trappings of a police procedural. That and casting Canadian Ryan Reynolds helped the movie, released by eOne, surpass $1 million at the Canadian box office.
It was picked up by A24 and DirecTV in the U.S., where the focus has been on satellite and, subsequently, digital distribution through Lionsgate. Although the latter declined to provide numbers, Egoyan and The Film Farm producers understand it has performed well on those platforms – not surprising given Reynolds' later breakthrough in Deadpool.
Egoyan shares credit for his career success with his producers, distributors and creative collaborators, many of whom have worked with him for decades. His partnership with director of photography Paul Sarossy – which dates back to Speaking Parts (1989) – was recognized with the Cinematographer – Director Duo Award at Poland's 2016 Camerimage film festival.
Other key associates include: composer Mychael Danna, whose Oscar-winning career was given a boost from his gig on Egoyan's Family Viewing (1987) and who won Genies for Exotica, The Sweet Hereafter, Felicia's Journey (1999) and the director's Armenian Genocide-themed Ararat (2002); production designer Phillip Barker, who won a DGC Award for Egoyan's noir period piece Where the Truth Lies (2005); editor Susan Shipton, who won a DGC Award for Chloe; and sound mixer Daniel Pellerin, who won a Genie for The Sweet Hereafter.
Their contributions have been crucial to these films' success, which can be measured mostly in awards and reviews. "The films I'm writing, directing and producing are artisanal at the end of the day. They are not intended as mainstream entertainment," the director acknowledges.
He has given back to the industry, teaching Ryerson University film students and mentoring up-and-coming talent over the years. This is most evident in the case of Simone Urdl, whom Egoyan hired out of film school as his assistant in 1991. Her roles grew incrementally until, along with Jennifer Weiss at The Film Farm, she served as coproducer on Chloe and producer on Adoration (2008) and The Captive. (Marcy Gerstein has since taken over as office manager at Ego Film Arts, Egoyan's production shingle.)
Mentors like Egoyan, Urdl says, are necessary.
"As a young woman entering this business, if I hadn't had somebody like him whom I completely trusted and knew had my best interests at heart and treated me with respect, I'm not sure I would have lasted," she says. "He believed in me and mentored me in such a positive way and taught me how to operate in business relationships. I started in an amazing place."
Weiss adds, "For him it's about what you are and your integrity. He hasn't shied away from sexual energy – it's in his work. I've seen him work with so many young actresses on really difficult subject matter and there's never any concern, whereas with others there might be. And I think the women who work with him would stand by that. He's the type of man we need to keep talking about."
And no doubt not only coworkers but cineastes worldwide will continue to do so. Speaking for himself with regards to his induction into Playback's Canadian Film and Television Hall of Fame, Egoyan says, "What's being celebrated is a whole system – from the Canada Council and the Ontario Arts Council [which funded his early features] to the support I've received from individuals through all these adventures. I'm just happy to have created this body of work that tells stories about people living in this country. I haven't taken for granted a single thing that's happened."
Image by Matt Forsythe
Playback's Canadian Film & Television Hall of Fame was founded in 2007 to recognize extraordinary achievements in the Canadian entertainment industry. Inductees are selected by a jury of their peers.
This article originally appeared in the Fall 2018  issue of Playback