In brief: DGC unveils 2018 Discovery nominees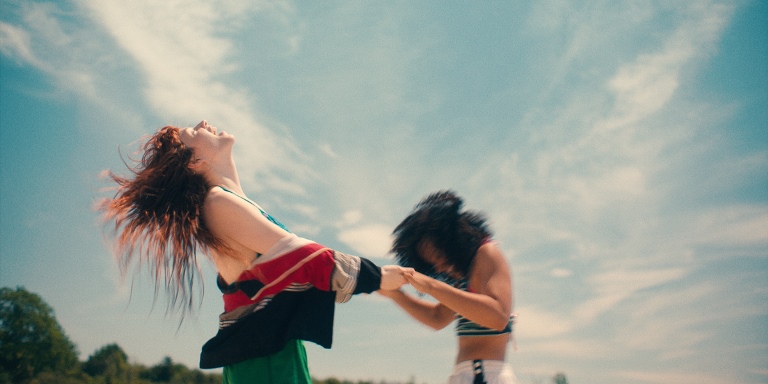 Plus: Gharrett Paon and Bretten Hannam score top honours at Pitch This!, Canadians recognized at the Creative Arts Emmy Awards, and more.
DGC unveils 2018 DGC Discovery Award nominees
M/M's Drew Lint, Clara's Akash Sherman and Firecrackers' (pictured) Jasmin Mozaffari are among the 16 filmmakers up for the Directors Guild of Canada's 2018 DGC Discovery Award. Presented by DGC Awards committee chair Manny Danelon on Sept. 9, other selected directors include Fausto's Andrew Bussmann, Edge of the Knife's Gwaai Edenshaw and Helen Haig-Brown, Giant Little Ones' Keith Behrman, Take Light's Shasha Nakhai, Chien de garde's Sophie Dupuis, Ville Neuve's Felix Dufour-Laperrière, The New Romantic's Carly Stone, The Museum of Forgotten Triumphs' Bojan Bodružić, Incredible Violence's G. Patrick Condon, Mangoshake's Terry Chiu, A Little Wisdom's Yuqi Kang and finally,  Freaks' Zach Lipovksy and Adam Stein. This year's Discovery jury was comprised of Canadian filmmakers Sadaf Foroughi, Kathleen Hepburn, Simon Lavoie and Wayne Wapeemukwa. The 17th edition of the DGC Awards will take place on Oct. 20 at the Royal York in Toronto.
Montreal companies partner to form difuze 
The Montreal-based localization and media services division of Technicolor, along with boutique sound and versioning service provider SPR and subtitling specialist CNST have joined forces to create content production and distribution services company, difuze. Based in Montreal, difuze will offer post-production (picture and sound), versioning, subtitling, and multiplatform content delivery services. The new company will be headed by president François Deschamps, VP of finance and administration Alain Baccanale and VP of sales and business Nicolas Savoie.
2018 Telefilm Canada Pitch This! winners announced
Gharrett Paon and Bretten Hannam were the big winners at the Telefilm Canada Pitch This! competition on Sept. 9, taking home $15,000 towards their feature film project Wildhood. In addition to the funding, the duo will receive support from a script consultant. Now in its 20th year, the Telefilm Canada Pitch This! competition sees six teams pitch their feature film ideas in front of a live audience and industry professionals, in the span of six minutes. Finalists for this year's pitch include Hailu Mergia – When the Time Comes from Simon Ennis and Alex Ordanis; Charles S. Roy and Francois Blouin's Jusqu'a la fin (A Moment of Pure Joy); Learn to Swim from Alona Metzer, Thyrone Tommy and Marni van Dyk; Saint Joan's Seven from Josh Epstein, Katey Hoffman and Cheyenne Mabberley; and Julie Baldassi and Naomi Jaye's The Incident Report.
Film London and the Vancouver Film Commission to sign MOU at TIFF
Film London and the Vancouver Film Commission will sign a memorandum of understanding (MOU) at TIFF on Sept. 11 to mark and enhance the two cities' business and creative links. The agreement aims to help the regions' creative sector and industry agencies work together. Under the MOU, the two agenices will work together on business collaborations and opportunities to cross-promote companies and their IP at international events and markets. Film London and the Vancouver Film Commission will also pool their expertise together to tackle issues like gender equality and environmental sustainability.
Canadians pick up Creative Arts Emmys
Canadian creatives behind The Handmaid's Tale scored two Creative Arts Emmy Award wins on Saturday, Sept. 8. The Handmaid's Tale was awarded in the Outstanding Production Design For a Narrative Contemporary Program category, with Canadian production designer Elisabeth Williams, art director Martha Sparrow and set decorator Caroline Gee recognized alongside American production designer Mark White. Meanwhile, Canadian editor Wendy Hallam Martin was awarded in the Outstanding Single-Camera Picture Editing for a Drama Series category, for her work on the episode "June." 

Image: Firecrackers, courtesy of TIFF