CFC teams with Netflix on five-year funding initiative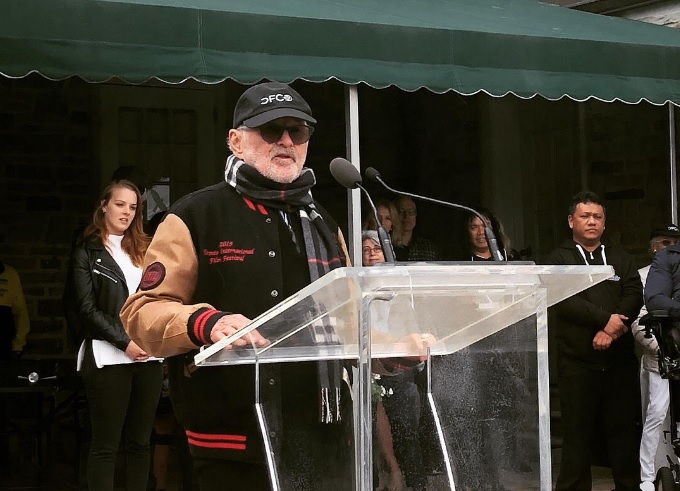 Meanwhile, the film centre partnered with Comweb Corp/William F. White to launch a new scholarship for Indigenous creators in Jay Switzer's name.
The CFC and Netflix have unveiled a five-year funding initiative aimed at accelerating the careers of domestic content creators and their film and TV projects.
The Netflix-CFC Global Project partnership, announced Sunday at the 2018 CFC Annual BBQ Fundraiser, is split into three separate accelerator programs: the Calling Card Accelerator, which will allow creators to produce a proof-of-concept for their film or TV project; the Project Development Accelerator, offering tailored development support to mid-level diverse creators; and the Marketplace Accelerator, which aims to better prepare creators when they are looking to secure international financing at markets and festivals.
In addition, the CFC will rename one of the newly renovated cottages on its campus as Netflix House, where creative talent from different industry fields can interact and collaborate.
"The diverse creative talent in Canada is among the best in the world, and we're excited to partner with the CFC to help expand opportunities for Canadian creatives in the international marketplace," said Larry Tanz, VP of content acquisition at Netflix. "We've seen first hand how well Canadian talent has captivated our members around the world and look forward to working with the CFC to continue to foster Canadian creatives."
Netflix-CFC Global Project is one of a number of funding initiatives and programs the streamer has launched as part of its $25 million development fund, unveiled last September. Other initiatives launched through this fund include the B.C.-based Pacific Screenwriting Program, the Hot Docs Canadian Storytellers Project, a production apprecticeship program with Montreal's L'institut national de l'image et du son and a development program with the National School of Humour. The streaming giant also made its first Canada-based hire at the end of August, appointing CMF exec Stéphane Cardin as its new director of public policy for Canada.
As well, the CFC partnered with Comweb Corporation/William F. White Int'l to launch the Jay Switzer Comweb/William F. White Int'l Indigenous Creator Scholarship as a tribute to the Canadian executive who passed away earlier this year. The program will see $100,000 distributed over the next 10 years, with the CFC administering the fund. More details of the scholarship will be announced at a later date.
"I cannot tell you how much we miss him at the Comweb/William F. White Int'l board table. I am thrilled that we can help sustain his impact and commitment to Indigenous creators," said Whites' CEO Paul Bronfman.