TIFF '18: After 40 years, Tantoo Cardinal finally takes centre stage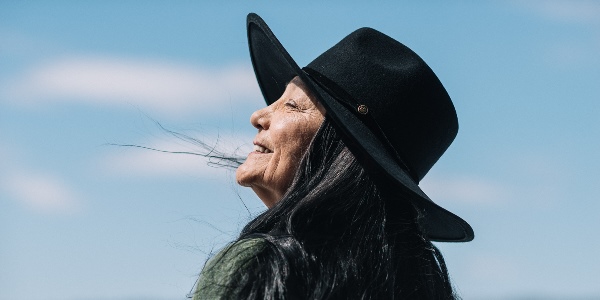 The Canadian acting legend said playing the starring role in filmmaker Darlene Naponse's Falls Around Her was an "absolute blast of freedom."
After writer/director Darlene Naponse worked with Tantoo Cardinal on her feature film Every Emotion Costs (2010), the filmmaker immediately wanted to partner with the Canadian acting legend again.
So when she developed the script for Falls Around Her five years ago, Naponse approached Cardinal about playing the role of Mary Birchbark, a famous singer who senses someone is watching her when she returns to her reserve to reconnect with the community.
Cardinal immediately signed on for the role, but it wasn't until just before filming began that Naponse and the film's other producers, Toronto's The Film Farm, made a startling discovery: this would be the first leading role of Cardinal's 40-year career.
Cardinal's no stranger to the screen, appearing in projects like CBC series North of 60 (1994-1997), Brad Pitt-starring feature Legends of the Fall (1994) and more recently TV shows Mohawk Girls, Cardinal and Godless. She also features in two other films premiering at this year's TIFF, The Grizzlies and Through Black Spruce.
"She's such an icon, such a hugely talented part of the Canadian industry and everyone knows her. You can't imagine that she hasn't had a leading role before," Film Farm co-founder Simone Urdl told Playback Daily. "It was kind of astonishing."
For her part, Cardinal said it was "wonderful" to take on a lead role after her long history in the business. Falls Around Her debuts in Toronto International Film Festival's Contemporary World Cinema program on Sept. 9.
The Film Farm boarded the project in March 2017, partnering with Naponse's prodco Baswewe Films to lock down financing from Telefilm, CBC's Breaking Barriers Film Fund, OMDC, The Northern Ontario Heritage Fund and the Canada Council for the Arts.
With financing in place, filming began in March 2018 in Naponse's home community of Atikameksheng Anishnawbek. The project was made on a budget of under $2 million.
Throughout her career, Cardinal said she hasn't always worked with directors that were comfortable with Indigenous subject matter or working with Indigenous communities – but that was emphatically not the case with Falls Around Her. "Often a filmmaker might not necessarily be comfortable or knowledgeable about the community or the culture or the characters, and there's always something to keep an eye on, and so this film was an absolute blast of freedom," said Cardinal.
Ahead of filming, the producers developed a mandate to hire as many Indigenous personnel as possible, with a view to boosting the skills and capacity of the local Atikameksheng Anishnawbek film community. The feature, which is the largest production to ever shoot in the community, was crewed by a combination of personnel from Atikameksheng Anishnawbek, Sudbury and North Bay, with more than 50% of the crew identifying as Indigenous.
Naponse stressed that part of the film's success is due to the collaboration between the film's Indigenous and non-Indigenous creative team. "[The Film Farm] are so concentrated on supporting the artistry and the vision of the film, allowing my voice to be my voice," she said.
Falls Around Her is one of a number of Indigenous-Canadian features premiering at this year's festival. And for Naponse, rather than being a showcase of individual projects from Indigenous creators, this is a chance for filmmakers' entire bodies of work to garner attention. "It's a really strong time for Indigenous film and what's going to happen is that audiences will be able to not only see these new works, but also to understand the amazing work [that's] already done," said Naponse.
"I have watched this process and this progress going on for many years, and I really strongly had the feeling that one of these days we're just going to burst through," added Cardinal. "There's so much more out there that audiences are not seeing. There are so many wonderful films that have already come through," she said.
Falls Around Her is produced by Naponse as well as Urdl, Jennifer Weiss and Jamie Manning of The Film Farm, which was yesterday honoured with the CMPA's 2018 Indiescreen Established Producer Award. Christine Haebler serves as executive producer. It also stars Tina Keeper, Gail Maurice, Johnny Issaluk, Robert Stewart, J.D. Nicholsen, Hope McGregor and Billy Merasty.