Markham set for 400,000-sq-ft studio complex
Markham Movieland, which will include a 70,000-square-foot "super stage," is scheduled to be operational by the end of 2020 and cost around $100 million.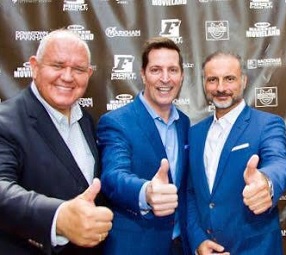 Markham, ON-based First Studio City has unveiled plans to bring a 400,000-square-foot studio facility to the city.
Located in Markham's downtown (around 25 kilometres from downtown Toronto), Markham Movieland will have a 70,000-square-foot "super" sound stage, which First Studio City says will be the largest film, TV and digital sound stage in North America. The privately funded project is expected to cost in the region of $100 million.
The company says the facility will be able to accommodate either one blockbuster tent pole project, two major feature films, or seven mid-sized feature films at the same time. In addition, the facility will also contain 20 smaller sound stages that will cater to projects of varying budgets.
Markham Movieland is scheduled to be operational by the end of 2020, with construction set to begin later this year or early next. The studio is designed by Quadrangle Architects and built by real estate company The Remington Group.
First Studio City's co-founders Frank Sicoli and Dominic Sciullo, alongside Markham mayor Frank Scarpitti and parliamentary assistant to the Ontario Minister of Tourism, Culture and Sport, Vincent Ke, unveiled the plans at an event Friday.
"We're confident in the new business model of First Studio City and believe it has what it needs to be successful in attracting and retaining film production by bringing together first-class companies and people to build a haven of culture and technology," said Sicoli  in a statement.
Other film studios have also began looking to build capacity outside of central Toronto. Last month TriBro and the Ottawa Film Office unveiled a proposal $40-million sound stage campus and creative hub in Ottawa. TriBro is also continuing to move forward with plans to build a studio complex in Pickering, ON. In addition, Cinespace expanded its Etobicoke location with the addition of two 20,000-square-foot studios.
Picture (left to right): Frank Scarpitti, Frank Sicoli, Dominic Sciullo