CBC and Snap pair for two new series
This is CBC's first dive into long-term news series on Snapchat, as opposed to event-centered programming.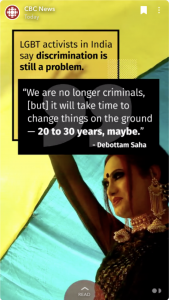 Canada's national broadcaster has paired with millennial favourite Snapchat to create two new Publisher Stories, available to all Canadian users on the app's Discover page.
Five times per week, users can access CBC News editions created specifically for Snapchat. CBC will also produce culture and entertainment editions once per week on the social platform. The series will span topics such as pop culture, health, Canadian and global politics and more.
The content doesn't expire after 24 hours like most personal Snapchat posts – if a user happens to miss or skip an edition the day it launches, it can still surface on the Discover platform for later watching. Snapchat said this makes CBC the platform's first "always on" content partner in Canada.
Although CBC has previously paired with Snapchat for original content around event-specific initiatives, such as its Publisher Stories and Our Stories (curated user generated content) series around the 2018 Winter Olympics, this is CBC's first dive into a regular Snapchat series.
Richard Kanee, executive director of digital strategy at CBC, said in a statement that the two channels are part of CBC's mission to "connect with Canadians with their stories on their terms."
Snapchat currently boasts a Canadian reach of 10 million people. According to the company, its revenue for Canada grew 104% year-over-year (Q1 2017 compared to Q1 2018), over-indexing an overall global growth rate of 54%. Currently, the majority of Canadian marketers run ads on Snapchat through programmatic purchases.
From Media in Canada