In brief: Nguyen's Hummingbird Project to open VIFF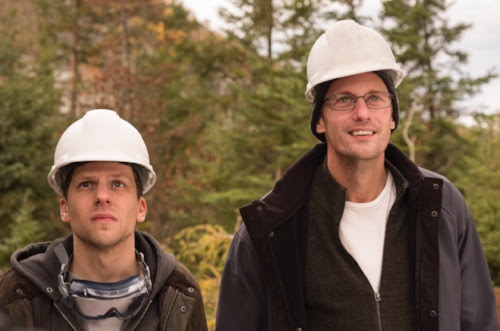 Plus: Spin Master, Kew Media and eOne all add to their teams, and WIFT-T names its Meridian Artists Agency Mentorship recipient.
Kim Nguyen's Hummingbird Project set as VIFF's opening-night film
Kim Nguyen's The Hummingbird Project (Canada/Belgium) will serve as the opening-night film for the 2018 Vancouver International Film Festival (VIFF). The Item 7-produced feature will kick off the 37th edition of the festival on Sept. 27, while Jason Reitman's The Front Runner (U.S.) will close out the festival on Oct. 12. Between those, Robin Hays' Anthem of a Teenage Prophet makes its world premiere in the BC Spotlight Gala on Oct. 6. The film, based on Joanne Proulx's novel Anthem of a Reluctant Prophet, stars Cameron Monaghan (Shameless) as a teenager who foresees the death of his best friend and then must deal with being dubbed a "prophet of death" by the residents of his hometown. VIFF also announced it will present Canadian director Jean-Marc Vallée with its Tribute Award.
Spin Master Entertainment hires new senior director of sales and distribution
Toronto's Spin Master Entertainment has appointed former DHX territory manager Thom Chapman as its new senior director of sales and distribution. In his new role, Chapman will be responsible for creating and managing global content strategies across linear, non-linear and emerging platforms. He will report to Spin Master Entertainment's VP of operations and legal, Porsha Gauthier, and work closely with EVP of Spin Master Entertainment, Jennifer Dodge, as well as with the company's business units for girls, preschool, boys and robotics. Chapman previously served as DHX Media's territory manager in Asia where he was responsible for directing content expansion strategy. He also served as VP of business development and sales at ToonBox Entertainment.
Kew Media Distribution adds to sales and distribution team
Canadian-based Kew Media Group has added Maria Ibarra to Kew Media Distribution's sales and distribution team. As director of sales and distribution, Ibarra will manage sales of Kew Media Distribution's multi-genre slate across Canada, Lat Am, the Caribbean and U.S. Hispanic territories as part of the company's strategy to develop content throughout the region. Based in Miami, she will report to Kew's VP of sales Jennifer Askin, who was appointed earlier this year. Ibarra joins Kew after 12 years at Viacom, where she most recently served as director on international program sales responsible for Latin America and Canada.
KWT Global acquires Toronto's Holmes PR
MDC Partner's agency KWT Global (formerly known as Kwittken) has acquired Toronto-based communications agency Holmes PR. Launched in 1988 by Katherine Holmes, Holmes PR's clients include the Shaftesbury Films, AMC Network, iHeartRadio MMVAs, Sirius XM, Canada's Walk of Fame, the Art Gallery of Ontario, the Canadian National Exhibition and the Aga Khan Museum, to name a few. Holmes will join KWT Global immediately to lead and support the Toronto office's nine staff.
eOne appoints global marketing film head
Entertainment One (eOne) has hired Dora Candelaria as its EVP, marketing, film. Based in L.A., she immediately joins the company to oversee all marketing and publicity for all eOne film content. In her new position, the exec will work closely with eOne senior leadership, film partners and local territories to create and implement global marketing strategies. Since 2007, Candelaria has served in a variety of roles at Paramount Pictures, most recently holding the position of SVP of international publicity. At Paramount, she led international publicity campaigns for Mission Impossible: Fallout, A Quiet Place, Jack Reacher, The Big Short, in addition to franchises like Mission Impossible, Transformers and Star Trek. On the domestic side, she executed publicity campaigns for films like Justin Bieber: Never Say Never, True Grit, Iron Man and its sequel and the Paranormal Activity franchise.
WIFT-T names 2018 Meridian Artists Agency Mentorship recipient
Women in Film & Television – Toronto (WIFT-T) has named Jennifer Irons as its recipient of the 2018 Meridian Artists Agency Mentorship. The program offers a three-week job-shadowing experience to an emerging media professional on the day-to-day operations of a talent agency. Irons, who previously transitioned from a career in the healthcare industry to film, is the founder of ME studios, a Toronto-based production company. This year, she was also awarded the Toronto Screenwriting Conference's Breakthrough Artist Award. Irons will start her placement this October.
With files from Realscreen and Kidscreen