OUTtv pops up in South Africa
Through a deal with pay TV net MultiChoice South Africa, the Canadian net will launch OUTtv South Africa for a one-month run.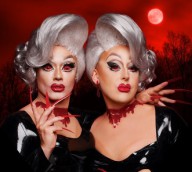 Vancouver-based LGBTQI+ net OUTtv is launching in South Africa for a limited run.
Launched in partnership with pay TV network MultiChoice South Africa, the "pop-up channel" will be available on MultiChoice's DStv channel 198 from Oct. 4 to Nov. 4.
The OUTtv pop-up will offer a mix of films, dramas, lifestyle, reality, music, comedy and travel show, with more than 80% of that content making its South African premiere.
OUTtv originals set to air include Knock Knock Ghost (Convergent Entertainment), Sex & Violence (Emotion Pictures), Don't Quit Your Gay Job (Convergent Entertainment), Shadowlands (Border2Border Entertainment) and The Boulet Brothers' Dragula (Ash & Bone Cinema, pictured).
The South Africa launch follows OUTtv's recent move to New Zealand via a deal with broadcaster TVNZ. Through the agreement, TVNZ offers the Canadian net as a channel on TVNZ's OnDemand platform. The New Zealand broadcaster also picked up the streaming rights to OUTtv's content and the use of its brand.
Last week, OUTtv commissioned docuseries Dr. Barry (6 x 30 minutes) from Arcadia Content, Drag Heels (5 x 30-minutes) from Border2Border Entertainment and Bulldog Productions' 10-episode digital series FAK YAASS.
Drag Heels will premiere on OUTtv this fall, while Dr. Barry will air in spring 2019. FAK YAASS will also debut in spring 2019 on OUTtv's streaming service OUTtvGo and later air as a two-part miniseries on OUTtv.
Correction: An earlier version of this story incorrectly state that OUTtv was the first LGBTQI+ network available in Africa. Playback regrets the error.