David Purdy moves to Stingray
The former Vice Media exec will serve as CRO as the company aims to diversify its revenues and bolster its mobile and OTT content strategies.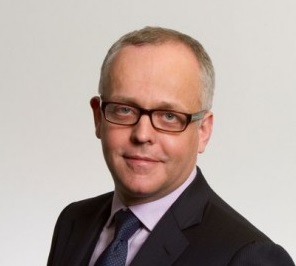 Veteran media exec David Purdy has made the move to Montreal-based music and video service Stingray Digital Group.
Purdy has spent the last three years as chief international growth officer for Vice Media, where he worked on increasing revenue strategies abroad for the media company. Prior to that, he spent 16 years at Rogers, where he worked in progressively senior roles for both digital and conventional products.
Now, he's set to take an office in the C-suite of Stingray, where he'll work as chief revenue officer. Purdy is charged with accelerating growth, diversifying and developing revenue strategies for Stingray, which is currently pursuing growth both in and outside of Canada.
Speaking to Playback sister publication, Media in Canada, Purdy said he sees plenty of opportunity for revenue growth for the Canadian company in other countries, particularly in the U.S. According to Purdy, 60% of Stingray's revenues come from outside of Canada, but "only a small percentage" of that comes from the U.S. market.
He also wants to bolster Stingray's mobile content strategy, adding that his work with Rogers and Vice will feed into that. "During the work I did there, I was in contact with mobile providers around the world, and they're all in the process of figuring out their content strategy." He added that during his time at Vice, upward of 70% of the viewing for its digital content occurred on mobile. "Telco providers are now just starting to craft their strategies as it relates to mobile content." He said with Stingray continually expanding its direct-to-consumer subscription products, there's increased opportunity for it to work with more mobile providers and OTT platforms such as Amazon for its music channels.
Most of Stingray's business model is built around an ad-free music streaming service which is available through authentication (users must be registered with certain phone, cable or internet providers). It generates its revenue from telcos on a per-subscriber basis. It also recently acquired the Newfoundland Capital Corporation (NewCap), which owns more than 100 radio stations across Canada (the sale is currently pending approval by the CRTC).
Purdy believes this acquisition will help raise awareness for Stingray's flagship music service, through cross-promotion and advertisement.
"We have an amazing user app, so the focus is on getting it in more hands and helping awareness grow."
A recent study by Edison Research found that Stingray, which started in 2007, has relatively low awareness in Canada compared to audio giants like Spotify – Stingray boasted 33% awareness among the 1,000 respondents, compared to Spotify's 64% and Apple Music's 62%. But the firm noted that Stingray was something of an anomaly as it was sixth for overall awareness but second place for overall listening (12% of respondents had listened to Stingray in the last month, behind Spotify at 19%), signalling a high conversion rate for the service.
But it's not just about the music service anymore, said Purdy, which is part of why he was hired for the new role. "We're not going to get stuck adhering to one model," he said. "In hindsight, in the cable TV business, we recognized in the last 10 years that we probably didn't move fast enough to meet the needs of different segments of the market. There was too much time spent trying to protect the old cable TV bundle and not enough time spent trying to create the next-generation bundles that would appeal to a younger market."
Developing Stingray's digital and OTT music channels will be part of that product strategy, said Purdy, especially given the company's desire to grow its market outside of Canada.
"What I learned at Vice that I think is directly relevant to Stingray is just how different each global market is," he said. "When you're only used to Canada, you assume most global markets are very similar. But even in Europe, the German TV market is very different from the U.K. in terms of how ad-supported it is, what the business models are like. We have to develop business models that work for everyone."
In its most recent quarterly fiscal report, Stingray reported $34.5 million in revenue (with $30.8 million of that being recurring revenue), up 16% year-over-year.
Purdy officially begins his tenure Sept. 4.
From Media in Canada