Cameron Bailey on TIFF's future and festivals reflecting today's realities
TIFF's artistic director discusses the festival's upcoming leadership change and why programmers are "questioning their own assumptions" in selecting 2018's films.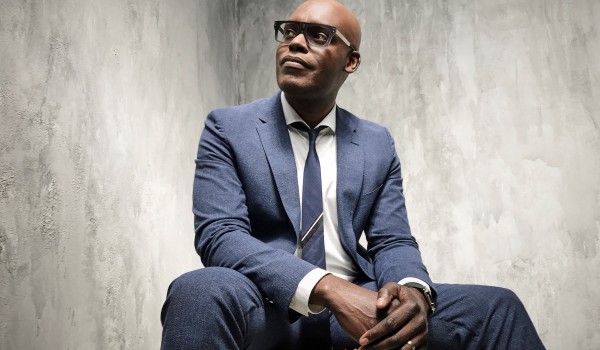 There are a lot of impressive figures and statistics that can be used to describe the Toronto International Film Festival.
For example, 343: that's the number of films screening at this year's fest (that's 255 features and 88 shorts). There's also 14, the number of hours audiences will spend in a theatre watching TIFF's longest film, and 34%, the percentage of films directed by women in the 2018 program. Another might be its five-year plan, an effort spanning 2018-2022 that will see the festival's executive team and programmers work to bring "transformative experiences through film" to life.
One particularly important number to TIFF artistic director Cameron Bailey is 28. That's the number of years he's worked with outgoing CEO Piers Handling.
Handling hired Bailey in 1990 as a programmer and over the years Bailey's risen through the ranks to become artistic director and, come October, he'll take on the added title of TIFF co-head. With Handling exiting as CEO at the end of the year, the 2018 fest marks the last time the two will officially work together.
"It's been a bittersweet year. I know that Piers is proud of his legacy, as he should be, and I think he's ready to move on, but I'm definitely going to miss him," Bailey told Playback Daily. "I've learned a lot from him. I'm looking forward to putting everything I've learned from him into practice and taking on [my new] responsibility, but there will be some sadness this year as well."
In his new role, Bailey said he'll continue overseeing the artistic direction of TIFF, which he's done since 2012, while also managing the overall health and long-term strategy of the organization. "A lot of it really comes down to just knowing that the ultimate responsibility will rest with me to make sure that TIFF is delivering on its mission, that its programming is as strong and coherent as it can be and everything's connected."
While TIFF has yet to announce who will succeed Handling and join Bailey as co-head of TIFF, Bailey said TIFF will be announcing who that person is "soon."
"The most important thing for the two co-heads of TIFF is that we are fully in sync in terms of what we want from the organization and the strategy we see as the means to achieve it," he said. "What I can say is that I'm ready to walk shoulder to shoulder into TIFF's future, because I think we've got a strong plan… We know where we're going, we know what we need to get done, and with two people who are aligned in terms of getting it done, I think it's going to be exciting times for us."
TIFF's 2018-2022 strategy, announced last August, puts increased focus on live and unique events around films. It also aims to offer learning experiences to people of all ages through live and and online programming, as well as better connect with diverse communities, according to a Toronto Star report. 
As TIFF works to better understand and define its connection with the city and wider community of cinephiles, the festival heads are also continually rethinking how they program the 11-day event. Last year, for example, the fest cut its festival programming by 20%. It's also committed to supporting female talent through its Share Her Journey campaign, and will this year host a rally in support of women in film.
As the wider industry confronts issues of systemic power imbalances and abuse, and as more organizations commit to supporting women in front of and behind the camera, Bailey said the festival's programmers continue to "question their own assumptions" when it comes to how they select films. "I think that most of us grew up watching films that were so dominated by male filmmakers for so many years, and [that can] shape your taste in some ways," he said. "You have to begin to question and understand that."
This year, 34% of the festival's films are by women, up slightly from 33%, but a significant jump, said Bailey, from five or six years ago. "I think when we first began counting seriously we were at about 25% [films by women]," he said.
In addition to more films by women, Bailey said if there's one predominant theme in this year's lineup, it's that filmmakers are working to help audiences confront the world around them.
"We've certainly been seeing more films and filmmakers diving into the tumult that we're seeing in the world as a whole: political changes, societal tensions and divisions [and] trying to understand how we all need to get along," he said, pointing to Michael Moore's Donald Trump doc Fahrenheit 11/9, as well as Steve McQueen's genre film Widows, which explores social tension in Chicago, and Claire Denis' High Life, a sci-fi that reflects on how gender shapes our behaviour.
One Canadian film he's particularly excited to debut will introduce many Canadians to a language never-before spoken on screen. Edge of the Knife, by Indigenous filmmakers Gwaai Edenshaw and Helen Haig-Brown, is the first ever in the Haida language. "That's a step forward, I think, to have films made in Indigenous languages. I think we're going to see a lot more of that and I'm glad we're launching that one."
Image courtesy of TIFF, Photo by Matt Barnes