TIFF unveils Wavelengths, Contemporary World Cinema picks
Canadian copro Roads in February from writer/director Katherine Jerkovic will have its world premiere at the festival.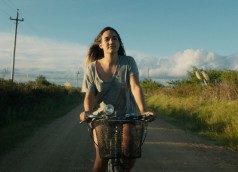 The Toronto International Film Festival (TIFF) revealed its Wavelengths and Contemporary World Cinema (CWC) selections on Tuesday, including a world premiere for writer/director Katherine Jerkovic's Canada/Uruguay copro Roads in February ("Les routes en fevrier") in the CWC section.
Produced by Montreal's 1976 Productions and Uruguay's Cordon Films, the feature follows a woman who visits her paternal grandmother in her hometown in Uruguay. Producers on the project include Micaela Sole and Nicolas Comeau. The feature, which was recently selected for the Vancouver International Film Festival, will screen alongside 47 other films, hailing from 30 countries, in the section.
World premieres for this year's CWC, which celebrates daring filmmaking from across the globe, include Michael Noer's Before the Frost (Denmark), Federico Veiroj's Belmonte (Uruguay/Spain/Mexico), Valeria Sarmiento's The Black Book (Portugal/France), Rima Das' Bulbul Can Sing (India), Ahmad Abdalla's EXT. Night (Egypt/United Arab Emirates), Yury Bykov's The Factory (Russia/France/Armenia), Nejib Belkadhi's Look At Me (Qatar/France/Tunisia), as well as Avi Nesher's The Other Story (Israel), among others.
Meanwhile, TIFF's Wavelengths program consists of 43 films overall including 10 features, four short film programmes and two curated pairings.
Features set to take part in the program include Wang Bing's Dead Souls (France/Switzerland), Ghassan Halwani's Erased,___Ascent of the Invisible (Lebanon), Ulrich Köhler's In My Room (Germany/Italy), Mariano Llinás' The Flower (Argentina), Bi Gan's Long Day's Journey Into Night (China/France) Richard Billingham's Ray & Liz (U.K.), Sergei Loznitsa's The Trial (Netherlands), and Roberto Minervini's What You Gonna Do When the World's on Fire? (Italy/U.S./France).
The features join previously announced Fausto from Andrew Bussman (Canada/Mexico) and The Stone Speakers (Kameni Govornici) from Igor Drljaca (Canada/Bosnia/Herzegovina). Fausto and The Stone Speakers will also screen in VIFF's upcoming Future/Present program and will make their North American and world premieres at TIFF, respectively.
The program's shorts fall into four categories – Another Brick in the Wall, Centerfold, We've Only Just Begun and Earth, Wind & Fire. Canadian shorts include Slip from Celia Perrin Sidarous, which is making its Toronto premiere and the world premiere of Sira from Rolla Tahir, which will both screen in the Centerfold section.
In Wavelengths' Earth, Wind & Fire category, both Ante mis ojos from Lina Rodriguez (Canada/Colombia) and Altiplano from Malena Szlam (Chile/Argentina/Canada) will make their world premieres.
Meanwhile, the Masters program will see world premieres for Merzak Allouache's Divine Wind (Algeria/France/Qatar/Lebanon) and Paolo Sorrentino's Loro (Italy/France), and North American premieres for Jia Zhang-ke's Ash Is Purest White (China/France), Hong Sang-soo's Hotel by the River (South Korea), Shinya Tsukamoto's Killing (Japan), Carlos Reygadas' Our Time ("Nuestro Tiempo"), Jean-Luc Godard's The Image Book (Switzerland/France), Nuri Bilge Ceylan's The Wild Pear Tree (Turkey/France/Germany/Bulgaria) and Christian Petzold's Transit (Germany). Mike Leigh's Peterloo (U.K.) makes its Canadian premiere in the program.