TIFF '18: Midnight Madness, Docs, Int'l Shorts lineups revealed
Just two Canadian copros were added to the festival's programs, including Naziha Arebi's Freedom Fields.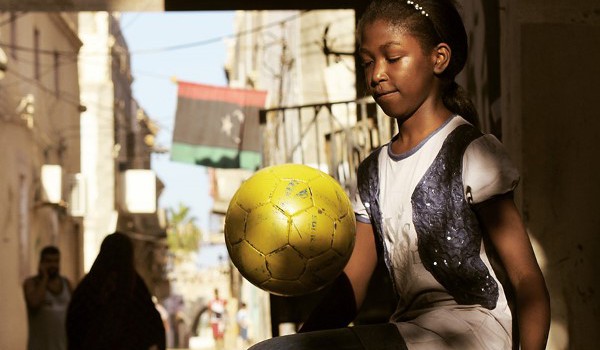 By Lauren Malyk and Regan Reid 
The Toronto International Film Festival revealed its full Docs, Midnight Madness, Cinematheque and International Shorts programs on Thursday, with just two Canadian copros added to the festival lineup.
The TIFF Docs program will feature the world premiere of Naziha Arebi's Freedom Fields (pictured, Libya/U.K./Netherlands/U.S./Qatar/Lebanon/Canada). Written and directed by British-Libyan filmmaker, the film is set in post-revolution Libya and follows a group of women who want to play football for their country.
Meanwhile, the International Shorts program will feature the North American premiere of Jayisha Patel's Circle (U.K/Canada/India), about a young woman caught in a cycle of abuse. There are no Canadian films in the Midnight Madness lineup.
The Docs program will open with the world premiere of Michael Moore's Fahrenheit 11/9 (U.S.), a look at the U.S. under Donald Trump. Other world premieres include Alexis Bloom's Divide and Conquer: The Story of Roger Ailes (U.S.); Victoria Stone and Mark Deeble's The Elephant Queen (U.K./Kenya); Janus Metz and Sine Plambech's Heartbound (Denmark/Netherlands/Sweden), Alex Holmes' Maiden (U.K.); Tom Donahue's This Changes Everything; Rashida Jones and Alan Hicks' Quincy (U.S.), Billy Corben's Screwball (U.S.); and The Truth About Killer Robots from Maxim Pozdorovkin (U.S.).
The films join the three Canadian Doc Program selections announced by the festival last week: Barry Avrich's Prosecuting Evil: The Extraordinary World of Ben Ferencz, Ron Mann's Carmine Street Guitars and Astra Taylor's What is Democracy?. Rob Stewarts Shark Water: Extinction, meanwhile, will premiere as a special event and Jennifer Baichwal, Nicholas de Pencier and Edward Burtynsky's documentary Anthropocene will screen as a Special Presentation.
TIFF Doc programmer Thom Powers told Playback Daily that one of the major themes represented in this year's lineup is, understandably, politics.
"I think that the perspective of two years [of] distance from the U.S. presidential election is the right amount of time for documentary filmmakers to process [how they feel about politics]," said the long-time TIFF programmer, who references docs like Errol Morris' American Dharma (U.S./U.K.), which is making its North American premiere in the program, as well as Vitaly Masky's Putin's Witnesses (Latvia/Switzerland/Czech Republic).
Turning to its Midnight Madness Program, the genre-bending program will feature the world premieres of Shane Black's The Predator and David Gordon Green's Halloween, two highly anticipated horror sequels.
Other world premieres include Peter Strickland's In Fabric (U.K.), Vasan Bala's The Man Who Feels No Pain, the first Indian film to ever be included in the program; Kiah Roache-Turner's Nekrotronic (Australia); Henry Dunham's The Standoff at Sparrow Creek (U.S.); and Emma Tammi's The Wind (U.S.).
The program will also feature Gaspar Noe's Climax (France), the Canadian premiere of Sam Levinson's Assassination Nation (U.S), and it will close with the North American premiere of Gabriel Abrantes and Daniel Schmidt's Diamantino (Portugal/France/Brazil).
In addition to Circle, the International Shorts Program will feature 14 world premieres from 32 countries. The films bowing at TIFF are A New Year from George Sikharulidze (Georgia); Ballad of Blood and Two White Buckets from Yosep Anggi Noen (Indonesia); Bavure by Donato Sansone (France); Dodgy Dave by Charlotte Regan (U.K.); Everything calms down by Virginia Scaro (Argentina); Facing North from Tukei Muhumuza (U.S./Uganda); Feathers by A.V. Rockwell (U.S.); The Foreign Body by Héctor Silva Núñez (Venezuela/France); The Imminent Immanent by Carlo Francisco Manatad (Philippines/Singapore/Italy); Interior by Reed Van Dyk (Norway/U.S.); Lou from Clara Balzary (U.S.); Shinaab: Part II from Lyle Corbine Jr. (U.S.); To Plant a Flag by Bobbie Peers (Norway/Iceland) and Winners Bitch by Sam Gurry (U.S.).
Lastly, TIFF's Cinematheque Program, featuring classics of cinema, will host free screenings of Zacharias Kunuk's acclaimed Atanarjuat: The Fast Runner (Canada), Claire Denis' Chocolat (France), Carl Theodor Dreyer's The Passion of Joan of Arc (France) and Ingmar Bergman's Persona (Sweden).