TIFF '18: How a cross-cultural collaboration created The Grizzlies
Inuit producer and filmmaker Alethea Arnaquq-Baril on the genesis of the project and how Indigenous and non-Indigenous creatives can form fruitful partnerships.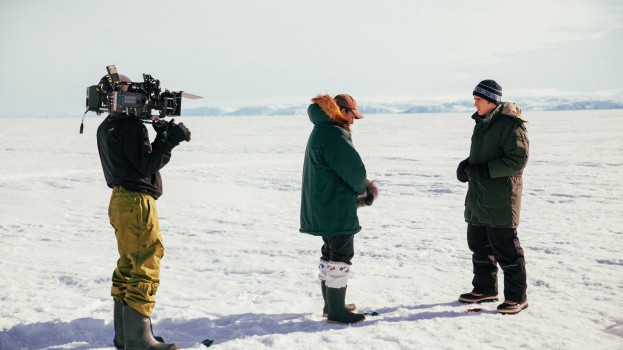 When Miranda de Pencier first travelled to the Canadian Arctic nine years ago to explore the possibility of directing a Nunavut-set story, Inuit producer/filmmaker Alethea Arnaquq-Baril admits she had immediate concerns.
"My first thought was 'who is this white lady, and who the heck is she to be telling this story?'" said Arnaquq-Baril at TIFF's Canadian press conference on Wednesday (Aug. 1). 
Having non-Indigenous producers, writers and directors approach her about telling Indigenous stories is nothing new for Arnaquq-Baril, who is also the writer and director behind the award-winning 2016 feature Angry Inuk. "I get requests all the time and my knee-jerk reaction is 'No thanks, I want to tell my own stories.'"
That was her initial reaction to de Pencier as well. However, the difference, said Arnaquq-Baril, was that de Pencier physically went up to Nunavut to learn about the culture, the people, the stories and the local industry – and then she kept coming back.
Year after year, de Pencier would travel up to Nunavut to learn more about the place and then work with Arnaquq-Baril and her producing partner Stacey Aglok MacDonald to weave those learnings into the fabric of the project that went on to become The Grizzlies. Additional producers on the project are Zanne Devine of Pacific Northwest Pictures and Damon D'Oliveira of Filmshow.
Set in a small Arctic town struggling with one of the highest suicide rates in North America, the Graham Yost and Moira Walley-Beckett-penned film is based on the true story of a group of Inuit students whose lives are transformed when they are introduced to the sport of lacrosse. Mongrel Media is distributing the film in Canada.
As well, in order to prepare themselves to take on a feature-length project, de Pencier, Arnaquq-Baril and MacDonald partnered on a pair of short films, including 2011′s Throat Song. The process of creating the shorts had additional benefits for the local film sector, as it built crew capacity and on-screen talent in the region. Many of the crew that gained experience on those short films later worked on The Grizzlies, which shot in 2016.
For Arnaquq-Baril, the film is an example of "best practices" in a collaboration between Indigenous and non-Indigenous teams. And while there's still a long way to go, significant strides have been taken over the past decade, she said. 

"When we started this process nine years ago, it was not expected for people of colour to tell their own stories. It wasn't expected for us to have some control over the representation of us on screen. And for Miranda to come in with that desire from the start, when it wasn't expected of her by funders or distributors, was so important," she said.
Arnaquq-Baril remains a strong advocate for Indigenous peoples telling Indigenous stories, but said authentic projects can be produced through partnerships with non-Indigenous writers, producers and directors. "I'm still an advocate for Indigenous people telling Indigenous stories – we need way more of that. However I also think it's totally possible to do cross-cultural collaborations well," she said.
The Grizzlies is one of three world-premiering Indigenous projects added to TIFF's 2018 Canadian lineup, alongside Gwaai Edenshaw and Helen Haig-Brown's Edge of the Knife and Darlene Naponse's Falls Around Her.
The former is the first feature film ever made in the language of Haida, which is classified by UNESCO as an endangered language and spoken fluently by less than 20 people. The project is executive produced by Zacharias Kunuk and Jonathan Frantz, who were part of the team behind the multi-award-winning 2001 feature Atanarjuat: The Fast Runner.
Danis Goulet, TIFF's Canadian features programmer, said the fact the film got made is a "stunning achievement" and said projects like it are crucial in representing the breadth of Canadian culture. "It is a vital language revitalization project but also a stunning cinematic achievement. It's captivating, genre bending, hypnotizing to watch and unlike anything else in the festival."
TIFF's senior programmer Steve Gravestock added the projects are indicative of "an interesting and fruitful time" in Indigenous cinema, which he credited in part to additional supports from federal and provincial funding bodies, as well as a growing base of talented and experienced Indigenous filmmakers.
For Arnaquq-Baril, the growth of the Indigenous cinema means there are a crop of Indigenous filmmakers waiting in the wings to take on bigger-budget projects. "There are a great number of brilliant Indigenous filmmakers and producers that are ready right now to come out of the gate and, if you just handed them $10 million, would make top-level work," she said.