TIFF '18: The Grizzlies, Clara, Sharkwater among 14 world premieres
Projects from Miranda de Pencier, Akash Sherman, Darlene Naponse and the late Rob Stewart are among 19 Canadian features added to the 2018 lineup.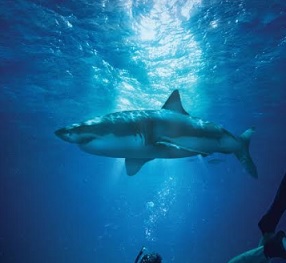 TIFF on Wednesday raised the curtain on a roster of 14 Canadian titles set for world premieres at this year's festival, including projects from emerging and established filmmakers such as Miranda de Pencier, Akash Sherman, Darlene Naponse and late documentarian Rob Stewart.
The Toronto festival added a total of 19 Canadian titles to the 2018 lineup, with nine of those directed by women and three from Indigenous writer/directors or creative teams.
Making their world premieres in the Special Presentations program are Miranda de Pencier's The Grizzlies and Jennifer Baichwal, Nicholas de Pencier and Edward Burtynsky's documentary Anthropocene.
The Grizzlies, the feature directorial debut from Miranda de Pencier (Anne), is a creative collaboration between de Pencier and Inuit producers Alethea Arnaquq-Baril and Stacey Aglok MacDonald. It was penned by Moira Walley-Beckett (Breaking Bad, Anne) and shot in Nunavut. Anthropocene is the follow up doc to Baichwal, Nicholas de Pencier and Burtynsky's award-winning 2013 doc Watermark.
The Special Event category will see the world premiere of Sharkwater Extinction, the final project from late Canadian filmmaker Rob Stewart, who died last year during filming.
Meanwhile, the festival's Discovery program, which highlights emerging talent, includes world premieres for four Canadian films: sci-fi fantasy drama Clara, written and directed by 5 to Watch alum Akash Sherman and produced by Serendipity Point, as well as Jasmin Mozaffari's Firecrackers, Zach Lipovsky and Adam Stein's Freaks and Gwaai Edenshaw and Helen Haig-Brown's Edge of the Knife.
The latter project is the first feature film made in the Haida language, which is classified by UNESCO as an endangered language. Set in the 19th century, the film tells the traditional Haida story of a traumatized and stranded man who is transformed into the wildman Gaagiixiid.
The Contemporary World Cinema program features a further five world bows for Canadian projects, with Darlene Naponse's Falls Around Her, Sébastien Pilote's The Fireflies Are Gone, Maxime Giroux's The Great Darkened Days, Bruce Sweeney's Kingsway, Renée Beaulieu's Les Salopes or the Naturally Wanton Pleasure of Skin and Thom Fitzgerald's Splinters all set to premiere.
The TIFF Docs section meanwhile sees the world premiere of Barry Avrich's Prosecuting Evil: The Extraordinary World of Ben Ferencz, as well as North American premieres for Ron Mann's Carmine Street Guitars and Astra Taylor's What is Democracy?, produced through the NFB.
A pair of Canada copros will screen in the Wavelengths program, including a world premiere for Igor Drljača's The Stone Speakers (Canada/Bosnia and Herzegovina) and a North American premiere for Andrea Bussmann's Fausto (Canada/Mexico).
Meanwhile, Denys Arcand's The Fall of the American Empire, the follow up to Arcand's Oscar-nominated The Decline of the American Empire (1986), will have its Toronto premiere in the Special Presentations program.
Elsewhere, 24 Canadian short films have been added to the lineup, with 15 of those coming from female filmmakers. Fifteen of the Canadian projects featured in the Short Cuts program are world premieres, including Zachary Russell's 7A, Lisa Jackson's Biidaaban ("The Dawn Comes"), Meryam Joobeur's Brotherhood (Tunisia/Canada), Ian Harnarine's Caroni (Canada/Trinidad and Tobago/USA) and Aaron Ries' Dziadzio.
Also debuting in the section is Caroline Monnet's Emptying the Tank, Claire Edmondson's EXIT (Canada/U.S.), Marie Davignon's Girlfriends, Roney's Glitter's Wild Women, Fantavious Fritz's Good Boy, Luiza Cocora's If This Isn't Love ("Si ce n'est pas de l'amour"), Ariane Louis-Seize's Little Waves ("Les petites vagues"), Sarah Pellerin's My Boy ("Mon Boy"), Sophy Romvar's Norman Norman and Matthew Hannam's Paseo.
There are North American premieres for Guy Maddin, Evan Johnson and Galen Johnson's Accidence, Alison Snowden and David Fine's Animal Behaviour, Sofia Bohdanowicz's Veslemøy's Song. Jérémy Comte's Fauve and Patrick Bouchard's The Subject also screen in the section.
Meanwhile, a trio of Canadian shorts will make their world premieres in the Wavelengths section, with Rolla Tahir's Sira, Malena Szlam's Altiplano (Chile/Argentina/Canada) and Lina Rodriguez's ante mis ojos (Colombia/Canada) set to bow. Celia Perrin Sidarous' Slip will also screen in the Wavelengths section.
Image: Shutterstock