The Communist's Daughter wins JFL's CBC Comedy pitch program
The webseries from Toronto duo Leah Cameron and Natalie Novak was among three winning projects at the Just For Laughs ComedyPRO annual pitch competition.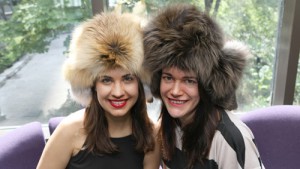 Toronto-based comedy duo Leah Cameron and Natalie Novak were two of the big winners at this year's Just For Laughs ComedyPRO pitch competition.
With their IPF-backed webseries The Communist's Daughter, the pair snagged the comedy fest's CBC Comedy Originals Pitch Program prize. Written, created and directed by Cameron, the project follows the daughter of two happily married communists who struggles to fit in at a new school – while trying to uphold her family's outdated beliefs. It's produced by both Cameron and Novak.

Cameron was previously selected to develop The Communist's Daughter under the WIDC's Story & Leadership script development and directing mentorship.
Launched in 2017, the ComedyPro pitch program sees five Canadian producer teams present their original web or TV series concepts to a panel of CBC Comedy development execs. The inaugural contest was won by Diversity League: Social Justice Division from Toronto-based comedy team Christophe Davidson and Courtney Gilmour.
Other winners from this year's pitch fest include New York-based Brittany Tomkin and Jorja Hudson, who won the short-form pitch competition for their short miniseries Myrtle & Willoughby. B
Meanwhile, L.A.-based Leslie Rathe's Tethered scored the top prize in the From Set to Screen: TV, OTT, SVOD and More program, which is targeted towards long-form single or multi-cam series.
This year's ComedyPRO judges included execs from Amazon Studios, Above Average, Bell Media, CBC, FOX, HBO, Hulu, Powderkeg, Some Spider Studios, Stoopid Buddy Stoodios, TBS and YouTube Originals.
L to R: Natalie Novak and Leah Cameron