Rex Tasker, NFB Atlantic founder, dies at 85
The producer and filmmaker helped reshape the NFB in the 1970s, opening an East Coast regional office to foster local filmmaking and storytelling.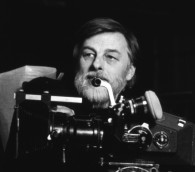 Rex Tasker, a filmmaker, producer and founder of the National Film Board's first Atlantic office, died this week in his home in Musquodoboit Harbour, NS. He was 85 years old.
A Brit by birth and one of the first students of the then-new London Film School, Tasker learned his craft and moved to Canada in 1958 specifically to work at the NFB, according to a memo from the organization. In this video, Tasker recalls his ambitions to work in film, and what it was like to discover the magic a handheld camera can create when freed from its fixed position.
He worked at the NFB in Montreal for over a decade but was drawn to the East Coast and its stories, creating short docs The Baymen (1965), about the dying trade of Newfoundland fishermen, and Encounter at Kwacha House (1967), chronicling a debate about racial discrimination in the region.
That passion turned into a purpose, and he soon became an advocate of the NFB's decentralization as a way to both transform the NFB's operations and to better tell regional stories. "I felt there were stories happening all across the country which were valid for the country at large, as well as being true to the regions where they originated," he said in an interview with The Chronicle Herald in 2014.
Having successfully argued his case, Tasker selected Halifax as his location of choice for a new regional office, moving there with his wife at the time, Shelagh Mackenzie, to establish the East Coast base.
In his time as head of that studio, he produced and executive produced approximately 100 films, including: Martin Duckworth's 1978 documentary 12,000 Men; Anne MacLeod's 1980 sand animation short Death in the Spring; Kent Martin's 1981 Miller Brittain; and the 1991 coproduction, Hunters and Bombers.
"He believed deeply in the art of documentary film and in enabling local filmmakers with creative tools and resources. We were blessed to have a passionate, provocative thinker build the foundation of our studio—we reap the benefits daily," Annette Clarke, executive producer of the Quebec Atlantic Studio in Halifax, said in a statement from the NFB.
He was recognized for his contributions to the industry in 1980 with the John Grierson Genie Award.
An interview with Tasker on his career is available on the NFB website as part of its Making Movie History series.