Ron Mann's Carmine Street Guitars to debut at Venice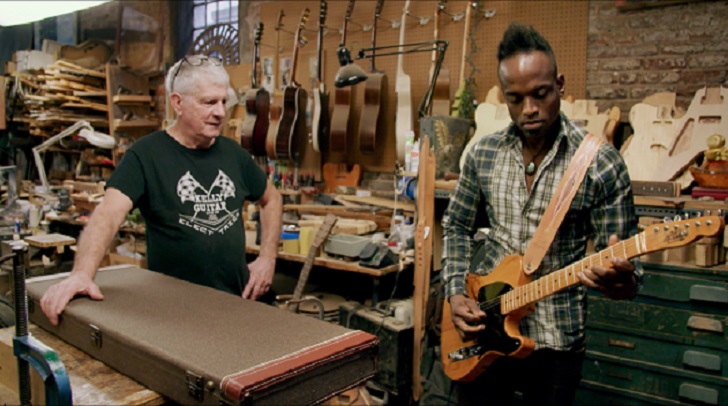 Two Canadian virtual reality projects have also been selected to compete at the Italian festival.
Ron Mann's Carmine Street Guitars will have its world premiere out of competition at the Venice International Film Festival.
Produced by Sphinx Productions, Carmine Street Guitars is Mann's 10th feature documentary, and his second presentation at Venice (2014′s Altman was the only Canadian film selected to screen at the festival that year). The film follows custom guitar maker Rick Kelly and his apprentice Cindy Hulej as they build handcrafted guitars from their Greenwich Village shop.
Also screening out of competition is S. Craig Zahler's Dragged Across Concrete, a Canada/U.S coventure produced by Unified Pictures, Cinestate, Assemble Media and Vancouver-based Look to the Sky Films. The movie filmed in Vancouver last summer.
In the Horizons program, Canadian director Mary Harron will screen Charlie Says, produced by L.A.'s Epic Level  Entertainment.
In the VR program, two Canadian projects were selected for the linear competition. Steve Miller's The Great C, produced by Secret Location, will world premiere at the festival. Described as a cinematic VR narrative, The Great C, adapted from a Philip K. Dick short story, transports viewers to a post-apocalyptic landscape where humans are ruled by a supercomputer. The VR experience will later be released for VR platforms in Q4 2018.
Meanwhile, Elli Raynai and Irem Harnak's Made This Way: Redefining Masculinity, will also screen at the festival. Produced by CFC Media Lab's Ana Serrano and Cinehackers' Raynai, Made This Way is an interactive mixed-media doc that explores how transgender men are challenging gender norms.
In addition, two Canadian projects have been selected for the festival's Venice Days lineup, which highlights independent and innovative cinema. Félix Dufour-Laperrière's Ville Neuve is set to make its world premiere in competition. Produced by Unité Centrale, Ville Neuve follows a man who reunites with his ex-wife when they move into their friend's house together during the 1995 Quebec independence referendum. Galile Marion-Gauvin served as a producer on the animated feature.
In addition, Emma Peeters from writer/director Nicole Palo was selected for the lineup. The copro from Montreal's Possibles Media and Brussels-based Take Five will screen in the fest's out of competition category. Emma Peeters follows an actress who gives up on her dreams and decides to commit suicide on her 35th birthday until she meets a funeral home employee.