Vertical Entertainment acquires The Reckoning for U.S.
Barry Avrich's follow up to his 2010 film Unauthorized: The Harvey Weinstein Project will be released stateside later this year.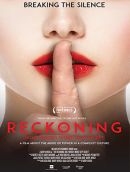 In the wake of the Harvey Weinstein scandal breaking open last year, one lingering question was why the topic was not addressed in the 2010 documentary Unauthorized: The Harvey Weinstein Project, directed by Barry Avrich, known especially for his mogul exposés.
It's a question that American audiences will now get to experience with Avrich's follow-up documentary, The Reckoning, which has gained U.S. distribution through global indie Vertical Entertainment.
Vertical acquires the U.S. distribution rights after the film's world premiere at the Hot Docs International Documentary Festival in April.
The film goes deeper into Weinstein's sordid past and, as described, "broadens the systemic scale of abuse to the ensuing harassment scandals in the #MeToo era."
The Reckoning is a powerful and timely account of widespread harassment in the film industry and a stark reminder that there is much work to be done in confronting the systems of power that got us here," said Rich Goldberg, co-president of Vertical Entertainment, in a statement.
The deal was negotiated by Rich Goldberg and Josh Spector at Vertical and Paradigm. Produced and directed by Avrich under his Melbar Entertainment Group shingle, it was exec produced by Patrice Theroux, co-produced by Melissa Hood.