Creatives urge industry to take more chances on new stories
At TIFF's Share Her Journey event, execs, writers and directors discuss filmmaking in the #MeToo era, support of underrepresented voices and building audiences DIY-style.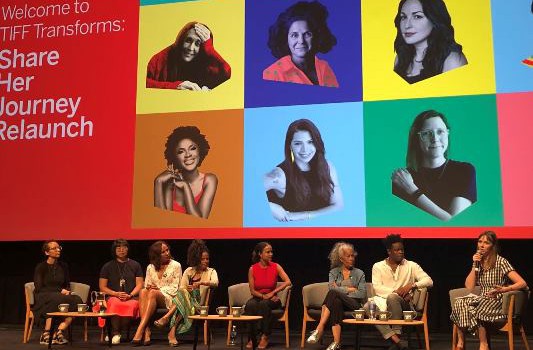 TIFF kicked off the second year of its Share Her Journey campaign Thursday July 12 with a panel discussion on gender and race bias in the Canadian film and TV industry, the #MeToo movement and making art in challenging times.
The panel, moderated by She Does the City founder Jen McNeely, included eOne's VP of theatrical marketing and communication, Joanna Miles, Wexford Plaza writer/director Joyce Wong, Handmaid's Tale actress Amanda Brugel, Brown Girl Begins writer/director Sharon Lewis, Anne screenwriter Naledi Jackson, singer-songwriter Molly Johnson, and Unarmed Verses director Charles Officer. The panel kicked off with an extended introduction from activist and educator Jane Doe.
The panelists were all enthusiastic about the changes they're seeing in the industry following the #MeToo movement, pointing to the creation of Codes of Conduct, conversations that are happening in the workplace around misconduct and employers' responsibilities, and a new feeling of openness to discuss experiences of sexual harassment.
"The idea of shame is no longer unspeakable," said Wong.
While a cultural shift is slowly taking place, they said, the industry needs to push the needle by supporting and telling new stories on screen.
McNeely pointed to both Wong and Officer's most recent films, both of which tell stories of young women who we don't often see on screen, she said, in neighbourhoods that are even less likely to be documented in films. Wexford Plaza follows a female security guard at a deteriorating strip mall in Scarborough, while documentary Unarmed Verses follows a young girl in a Toronto Community Housing project involved in a community-run songwriting program.
"I wanted to make a film about an experience that felt familiar to me, because I didn't feel that that particular place is well represented on film. It's important because what we see on screen helps us navigate our identities and understand who we are," said Wong. "When you're in a particular place in Toronto, what you experience is vastly different from what you experience if you are somewhere else. And the city can shape that by separating you or bringing you together in certain places like strip malls, for example."
Officer acknowledged that his award-winning film would not have been made without producer Lea Marin and the NFB's Anita Lee saying "yes."
"Wanting to tell a story about a 12-year-old black girl, in this country, isn't a thing that people jump out of their seats and say, 'Well that's marketable. 'There's an audience for it. Let's jump on that! How much do you need?' It doesn't happen. Unfortunately that's the truth. When I ventured into making this film, without having those women at the forefront of that, this film wouldn't have been made," he said.
When the discussion turned to how to get more of these stories seen by more Canadians, Miles noted that global SVODs have eroded the market for film. And while there is an appetite for thought-provoking series, "It's hard when you're a distributor of film in Canada and you have only one major exhibitor who sets the tone for what gets shown in Canadian theatres."
She said filmmakers need to use every avenue available to them to create word of mouth – YouTube, social media, renting out theatres and bringing out their networks of people.
Many of the panelists noted, however, that even getting these stories made in the first place, let alone seen, is the major hurdle. "Not everybody gets stopped at the gates. If you're a woman and you're a person of colour, you often get stopped before everybody else," said Brown. "Why when I walk in with a kind of interesting idea, is it like, 'I'm not sure if you've got the experience'? Blah blah blah."
For example, she said, "but when Jimmy walks in from grad school [with a story about] two boys growing up in Muskoka," it's a totally different story. "The exec says, 'I grew up in Muskoka, oh my gosh! He looks like my little son. Let's do another Muskoka story!'"
In the face of rejection – whether from funders or execs – the panelists urged up-and-coming filmmakers to continue to use every tool in their arsenal to make their work.
"If the government says no, am I just not going to make a film? No," said Brown. "We have stories to tell, so we're going to hustle."