Roundtable: Cross-territory common ground
In the first of an occasional series, producer-association heads from the U.K., Canada and Australia pinpointed points of divergence and opportunity in the disrupted TV landscape.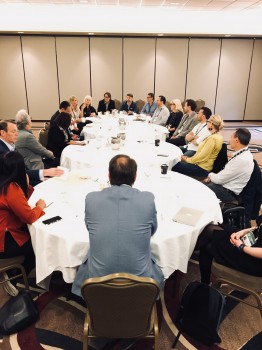 "It takes a village" is a common catchphrase in parenting but one that can be applied to any number of complex situations, including how indie businesses work with global behemoths.
It was on this topic that producers and producer-association leaders from the U.K., Canada and Australia gathered this June in an invitation-only roundtable at the Banff World Media Festival to discuss ways in which the new TV landscape presents challenges and opportunities for independent producers.
The roundtable discussion was moderated by Canadian producer/entrepreneur John Barrack and included association leaders Reynolds Mastin (CMPA), John McVay (PACT), Matt Deaner (Screen Producers Australia) and producers from all three territories, including Australian producers David Jowsey, Greer Simpkin (both, Bunya Productions) and Emma Fitzsimmons (Princess Pictures); producer Jeff Norton (Awesome) and distributor Chris Bonney (Cineflix Rights); and Canadians Kate Harrison (Cream Pictures), Tom Cox (Seven24), Frank Falcone (Guru), Vince Commisso (9 Story), Jennifer Dodge (Spin Master), Vanessa Steinmetz (eOne), Mark Montefiore and Alex Lalonde (New Metric Media) and Prem Gill, CEO of Creative B.C.
Despite being Commonwealth countries, arguably united in having to compete against English-language Hollywood content in domestic markets, the conversation revealed each territory grappling with the effects of disruption in different ways. In Canada, the question of IP ownership and platform contributions to content are top of mind, while in the U.K., Brexit looms large and the threat of OTT-platform disruption is mitigated by domestic factors such as funding levies and terms of trade. Australia, on the other hand, is mired in domestic policy challenges that find arts and entertainment struggling to hold their place.
On the point of IP retention, Mastin noted that it remains a primary challenge for Canadian producers in the absence of a terms trade agreement.
"Does there need to be some other kind of mechanism put in place or not? I think it's something we have to talk about, especially because we're now seeing the trend with domestic players where they're beginning to call themselves studios, and they're taking steps to become studios. This begs the question, how does the indie production sector fit into that equation?" he said.
SEVEN24′s Tom Cox added that any new measures must give indies the ability to retain some rights without disincentivizing OTTs from carrying out business in local markets. "The question is, can we get [OTTs] to contribute in a way that doesn't disrupt their model too much, but maybe bends their model just a little bit toward some IP ownership [for producers], and toward the protection of Canadian content and Canadian stories for Canadian audiences," he said.
Mastin also discussed the need to create a more sustainable funding model for Cancon.
"It's no longer about whether the other players who have entered the system in recent years contribute, it's about how," noted Mastin. "That's why the Minister's review is so important, because it will facilitate, I hope, conversations that certain players felt they just didn't need to have about what their role should be," he said.
The CRTC recently published a report suggesting that ISPs and digital-video companies like Netflix be mandated to contribute to the system. Following the release of the report, Minister of Canadian Heritage Melanie Joly appointed a seven-person panel to begin a review of the Broadcasting and Telecommunications Acts.
Meanwhile, PACT's McVay took a very different stance on the presence of digital players in the U.K. market, arguing that BBC director general Tony Hall was on the wrong track with his criticisms of OTT players in local markets. "I don't think he's right," McVay said of Hall. "We are very keen on the new SVOD platforms – all of them. They come and spend their money with an increasingly broad range of producers to make great global content." For now, he said, the union between U.K. producers and SVODs is working for both sides.
On the scripted TV front, U.K. producers are able to retain more IP due to the country's stronger rights position and terms of trade agreement. The scripted model typically sees BBC commission content, with Netflix taking worldwide rights.
Meanwhile, the unscripted sector is slightly different, with unscripted producers making a growing number of shows for Netflix. While the deals involve indies selling their IP to the global streamer, it's not viewed as a problem at the moment, said McVay. "That's good news for those companies, but its a global rights deal with no back end, no revenues, no IP – but the margins are currently healthy. If you're a small business you'll still have IP when you work for the BBC, [and you can also] do a straight service job for one of the FAANGs."
The PACT head also took a jab at Netflix's investment in the Canadian market via Creative Canada. "We're not going to ask the government to levy [OTT platforms]. We'd much rather compete for great content and have them spending their money in our British economy willingly and under greater competition, rather than the regulation. I've made very clear that producers will not be calling for a 20%-30% levy on Netflix in the U.K. domestic market," he said.
To this, Mastin countered that the presence of a terms of trade agreement in the U.K. forces broadcasters/platforms to do things they otherwise wouldn't in the absence of such an agreement.
Retention of IP is also a significant challenge for Australian producers. Deaner said that, in his experience, he has seen the indie production sector in Australia being squeezed. "Producers, you're all wonderful, but you also want to make sure your product is incredible at the point when you're releasing it into the market, which means you're probably spending some of the upside you can achieve in production to make sure you get yourself the next commission. If you're not careful, you're eating away at your own future earnings every time we do a deal," he said.
It's a global issue that Deaner suggested will require producers from multiple territories to collectively push back on.
"You can absolutely see the competitive tension now in all territories with producers being played off each other in global markets to do certain types of deals. We will need to work together, and with our creative partners, to ensure the sustainability of the market going forward," he said.