Private Eyes sees ratings uptick as season two resumes
Through the first three episodes this year, audience numbers for the detective series are up 21% compared to the first three episodes last year.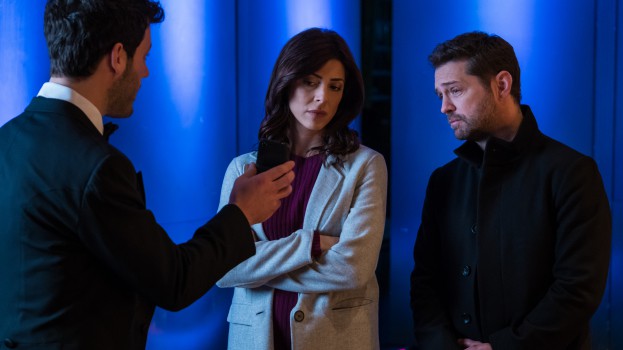 It appears Private Eyes is solving the mystery of how to retain linear viewers across multiple seasons.
The detective series returned for the second block of its second season on May 27 and has grown its audience in each of the four weeks since it premiered on Global, where it airs at 9 p.m. on Sundays.
According to Numeris data, the May 27 return pulled in 923,000 (2+) viewers and in subsequent weeks has increased to 951,000 (June 3), 1.099 million (June 10) and 1.217 million (June 17).
The 1.099 million ratings haul on June 10 put the show above U.S. series including MasterChef and World of Dance, and the following week Private Eyes climbed to the number-four spot in the Numeris chart.
The 1.217 million ratings total on June 17 was bettered only by America's Got Talent (1.493 million), Code Black (1.485 million) and CTV Evening News (1.221 million average).
Compared to the first three episodes of block one of season two (which began airing at the same time last year), Private Eyes ratings are up 21% in the 25-to-54 demo, 31% for the 18-to-49 demo and 30% for 2+ audiences. In addition, the show is the most-watched Canadian drama of the summer and among the top 10 series overall in all major demos (2+, A25-54 and A18-34) since it returned in May, according to Numeris data provided by Corus Entertainment.
Produced by eOne in association with Global, the hour-long show stars Jason Priestley and Cindy Sampson as private investigators. The show debuted in 2016 with a 10-episode first season and was later greenlit for 18 episodes in its second season. In March 2017, U.S. net ION acquired the exclusive U.S. TV rights for current and future seasons of the show.
Earlier this year, Corus greenlit a 12-episode third season, which is set to air on Global in 2019. Season three is is executive produced by Jocelyn Hamilton and Tecca Crosby for eOne, Shawn Piller and Lloyd Segan for Piller/Segan, Priestley, Alan McCullough, James Thorpe and Tassie Cameron. McCullough and Piller serve as showrunners.