In Brief: Barb Williams, John Morayniss join Whites board
Plus: Lift-Off Film Fest lands in Toronto and Verizon to shutter its video app Go90.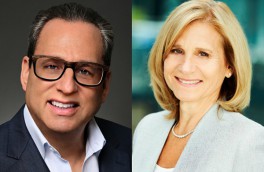 Barb Williams, John Morayniss join Whites advisory board
William F. White International has added two of the industry's most prominent figures to its board of directors. The production services company announced July 3 that Barb Williams (pictured) and John Morayniss have joined the board. "They are both reputable titans of our industry and their years of experience will undoubtedly bring great value to our company," said Paul Bronfman, chairman/CEO, Comweb Corp. and William F. White International in a statement. The pair join the board's existing members Cyril Drabinsky, vice chairman, Deluxe Entertainment Services Group; Laurence M. Geringer, partner and co-chair, mergers and acquisitions practice group, Dentons Canada; Keith Mosley, managing director, Broadstone Partners; Bernie J. Nisker, retired partner, Coopers & Lybrand; Munir Noorbhai, EVP and CFO, William F. White International; Paul Roscorla EVP and COO, William F. White International; and Bronfman.
Lift-Off Film Fest lands in Toronto
The Lift-Off Film Festival, an industry networking event and film showcase that takes place in 11 cities around the world, has moved from Vancouver to Toronto. Organized by the Lift-Off Global Network, based at Pinewood Studios in the U.K, the first-ever Toronto Lift-Off festival will take place at the Carlton Cinema on July 18 and 19. The fest will screen a selection of international shorts and features, as well as a local programming series featuring seven Canadian shorts, including Ran Jing's Fish Stew and Pranay Noel's Hogtown.  The festival, which aims to propel the next generation of filmmakers, collects feedback cards from audience members and film reviewers following every screening. That feedback is then sent to the filmmakers in an effort to help steer their creative process going forward. The festival culminates with a networking party for filmmakers and industry collaborators.
Verizon to shutter Go90
Verizon is to shutter its video app Go90 at the end of the month. The app, which is populated by a mixture of short-form content including original projects and live sports, was launched in October 2015. It goes dark on July 31. The platform included original series such as Mr. Student Body President, The Runner, T@gged, Tween Fest, and Street Fighter: Resurrection.