Deals: PNP, Blue Ant Media, Sinking Ship
Vancouver's Pacific Northwest Pictures nabs the Canadian rights to Girls of The Sun (pictured), plus more.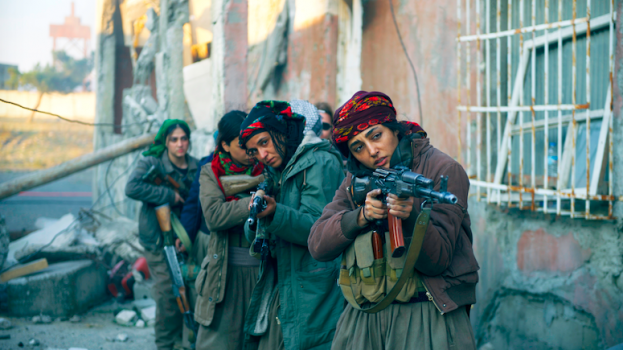 Pacific Northwest Pictures (PNP)
Vancouver's PNP has acquired the Canadian rights to Eva Husson's Girls of The Sun. Written and directed by Husson, the feature follows the commander of an all-female Kurdish battalion that tries to liberate their hometown. The indie prodco/distributor is planning a theatrical release across Canada for the drama. PNP will  partner with TVA Films to distribute Girls of The Sun in French-speaking Canada. Girls of The Sun was produced by Didas Domehri and co-produced by Etienne Comar, Vladimer Katcharava, Joseph Rouschop, Dan Wechsler and Jamal Zeinal Zade. PNP acquired the rights to the film through Paris-based sales and acquisitions company Elle Driver, which handles worldwide sales of the feature. The deal was negotiated by PNP's Emily Alden and Elle Driver's Alexis Reybet-Degat.
Blue Ant Media
Blue Ant Media has inked a raft of new carriage deals across Southeast Asia for two of its international linear channels. Blue Ant Entertainment, a general entertainment channel with series like The Late Show with Stephen Colbert and Bull, and Blue Ant Extreme, a channel focused on action-packed series like Hawaii Five-O and Spartan: Ultimate Team Challenge, will be carried on Indonesia's subscription Pay TV satellite operator, K-Vision, Papua New Guinea's Click TV and Vietnam's Pay TV providers VTVcab and Next TV. Blue Ant has also renewed its carriage deals for the two channels with Mongolian Pay TV provider Univision.
Sinking Ship
Nat Geo Kids Latin America has picked up the pay-TV rights for seasons one and two of Sinking Ship Entertainment's Dino Dana, as well as the consumer products rights for the region. The live-action/CGI dinosaur series will begin airing on Nat Geo Kids in September. The deal includes managing the brand's consumer products across home and furnishings, apparel, publishing, toys and board games. Based on the Emmy-winning Dino Dan and follow-up series Dino Dan: Trek's Adventures, the live-action/CGI show follows Dana, a 10-year-old paleontologist in training, as she embarks on a series of adventures with dinosaurs. The series is created by J.J. Johnson (Dino Dan, Annedroids) and produced by Sinking Ship Entertainment in association with Yoopa, TVOKids and Amazon Prime. Amazon Prime Video rolled out the series across the U.S. and the U.K. in May 2017. Nat Geo Kids, meanwhile, launched just under a year ago, featuring 400 hours of online and offline content. Nat Geo Kids recently picked up Opa Pupa Dupa, a new puppet-based original series produced by Estudios TeleMexico, aimed at preschoolers.
With files from Nicole Jeffries, Kidscreen