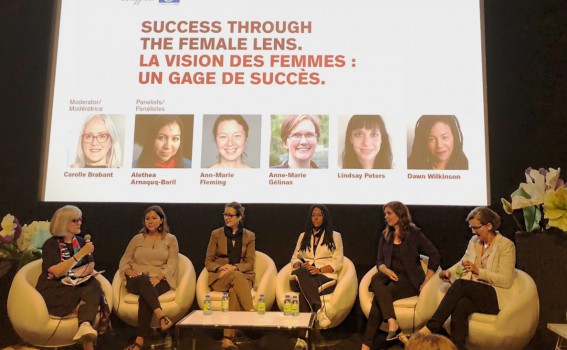 Telefilm Canada is on its way to achieving its goal of reaching gender parity in its production portfolio by 2020, but there are glaring challenges that remain.
That was the message delivered June 18 in Montreal on the first day of Eurimages' 151st Board of Management meeting, which is being held for the first time in Montreal.
As Eurimages' newest member, Canada was selected to host the meeting of the cultural support fund, with Telefilm Canada taking the opportunity to present its latest gender parity statistics and host a panel discussion on advancing women in the industry.
Of the films that Telefilm funded in 2017/2018, 44% had a female director attached, while 46% had a female screenwriter and 48% had a female producer.
The numbers aren't quite as encouraging when you take a closer look, however. Of the films Telefilm supported with a budget of $2.5 million or more, only 29% had a female director, 32% had a female screenwriter and 44% had a female producer attached. (See graph one).
All told, of all the money Telefilm invested in 2017/18, only 18% went to bigger budget films with a woman director, 21% with a woman screenwriter and 31% with a woman producer. (See graph two).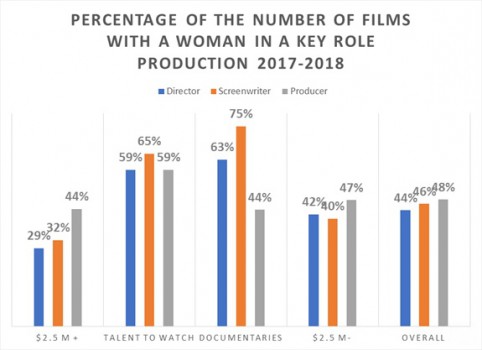 "These results are encouraging and positive change is happening, however, the greatest challenge lies with bigger-budget films, where there is a significant gap" said Jean-Claude Mahé, acting executive director, in a statement. "We need the industry's collaboration to increase the number of projects led by women in this budget realm.
"We can only do it with the distributors and the producers and the investors, who need to all come together and rally behind great projects and the great talent that we have here in Canada," Francesca Accinelli, Telefilm's director, national promotion and communications, told Playback Daily.
Following the presentation of the statistics, former Telefilm exec director Carolle Brabant moderated a panel discussion on ways in which the industry can advance gender parity.
The panelists included documentary filmmaker Alethea Anaquq-Baril (Angry Inuk), director Dawn Wilkinson (Riverdale), producer Anne-Marie Gelinas (Turbo Kid), writer/director Ann-Marie Fleming (Window Horses) and Frontieres Market exec director Lindsay Peters.
Brabant first asked the group if they've seen change on the ground in the past few years, following the implementation of industry initiatives to achieve better representation on and off screen.
"Well, I'm working, so yes," Wilkinson said with a laugh. "It's a joke but it's not really a joke, because for me personally a lot of opportunity has opened up in the past three years."
Wilkinson, who graduated from the CFC in 1999 and directed her first feature in 2005, has spent the last several years of her career directing TV including Greenleaf, Kim's Convenience and Reign.
"The fact that the last three years have been really busy for me is kind of an indication that things have started to change," she said. "I've worked on shows where crew members have said, 'You're our first woman director'."
Peters noted that just two years ago at Frontieres, the copro market wasn't seeing enough submissions from women. In response, they created an initiative called Directed By Women, and this year more than 50% of projects selected are led by women. "I do think that initiatives of supporting women earlier in their careers have created more attention and more interest – and overall we are receiving more submissions from women at different stages in their careers," she said.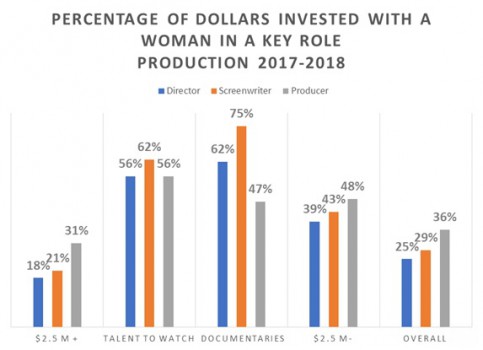 When the conversation turned to what the industry can do to get more funding to women-led projects, Arnaquq-Baril said gender parity initiatives are a step in the right direction. "It's signalling to the next generation that they have a right to ask for as much money as men do," she said. "But it's going to take, I think, a decade for women to believe that."
Women filmmakers and people of colour, she said, have been conditioned to create films within a budget that they believe they can realistically attain. "[We] write to smaller budgets because for a long time we knew that's all we could get."
She added that the industry has a responsibility to do more outreach and encourage more women and people of colour to aim big.
Gelinas added that women also need to be allowed the right to fail. Not every movie by a woman will be successful, she said, but funding and support needs to flow to women-led projects regardless.
"Men have had a century to develop their industry, we can take a decade," Arnaquq-Baril added, to applause from the audience.
On the topic of what men in the industry can do to support the advancement of women, Wilkinson pointed to a recent experience where a male producer actively called other producers and gave her a great reference that led to work. That's something men can do, she said.
"I was treated like an insider. I was treated like one of us. And I'm so used to being treated like one of 'them'," she said.
On a wider level, Arnaquq-Baril noted that juries who rank funding proposals and festival submissions often are following criteria that allots a certain number of points to producers and directors who have experience – something that could disadvantage women.
"If opportunities have unfairly been given to men in the past, those opportunities will beget more opportunities. It's really important for funders, festivals and agencies to consider that," she said.
She encouraged funding bodies and festivals to reassess their criteria. "Just ask, is this making it harder for women and people of colour to gain more experience to begin with."