Banff '18: Why Netflix's Larry Tanz said yes to Travelers
VP of content acquisition Larry Tanz on why the sci-fi series fit into the streamer's commissioning wheelhouse and what it's looking for in a project.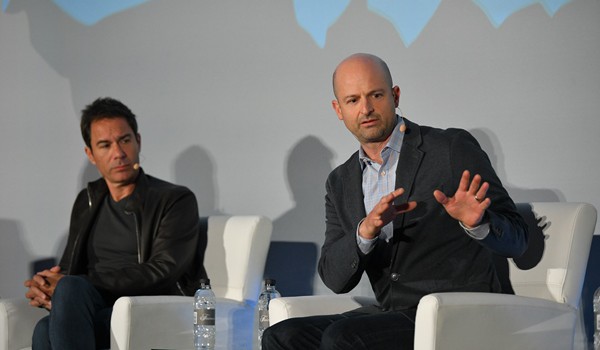 When creator Brad Wright first pitched Travelers to Netflix, the sci-fi project fit perfectly into the streamer's commissioning wheelhouse, according to its content acquisition VP, Larry Tanz.
During a panel at the Banff World Media Festival this week, the exec said Netflix was already interested in working with Wright, best known as a co-creator of the Stargate franchise, and, upon hearing the concept, believed the project would resonate with its subscribers across the globe.
Equally as important, however, said Tanz, was the fact that Wright came armed with scripts for nine episodes of the first season, which had been developed through the CFC's Prime Time TV Program.
"We loved the idea… but also having some of the scripts written through the CFC program gave us something really tangible to latch onto," said Tanz. A large part of the appeal was that Wright also laid out his long-term vision for the show over multiple seasons – a crucial part of the equation for Netflix, which has helped usher in an era of "binge-watching" thanks to its focus on serialized TV. "What I want to hear: what does season three look like, what does season four look like," he added.
When looking at the Canadian market, Tanz said Netflix typically looks to commission projects in two separate areas: shows that are set in a very identifiably Canadian, like Jason Mamoa-starrer Frontier (co-commissioned with Bell Media's Discovery and produced by Take the Shot Productions and ASAP Entertainment); and projects that have more universal themes and appeal to a broad base of its international subs.
Travelers falls very much into the latter category and has been among the top-performing sci-fi shows for the streamer. Last December, Netflix revealed that the show was the seventh most-binged show on its service globally. Tanz expanded on that during the panel, telling delegates that the average viewer watched the entire second season in roughly five days.
Set hundreds of years in the future, Travelers tells the story of the last surviving humans on earth as they discover how to send consciousness back through time. Toronto's Peacock Alley Entertainment produces the show, starring Eric McCormack and MacKenzie Porter.
Co-commissioned initially by Netflix and Corus Entertainment, the series launched on Showcase (in Canada) and Netflix (internationally) in fall 2o16. The show aired on Showcase for two seasons before Netflix took over all world rights (including Canada) for season three.
And while Travelers was one of Netflix's earliest sci-fi commissions out of Canada, the streamer has added a number of other originals in the time since, including High Park Entertainment's V-Wars and a pair of projects from Nomadic Pictures: Ghost Wars and The Order. As well, Vancouver-shot Altered Carbon is among the buzziest of Netflix's sci-fi releases of the past year.
Moving forward, Tanz said Netflix has no intention of slowing down on the commissioning front in Canada. "We plan to do more coproductions with our partners here, so there's just a lot more coming," he said.