Indiecan Entertainment launches Jewish Films on Demand
Founded by Avi Federgreen, the transactional VOD platform aims to connect North American audiences with a curated selection of Jewish films.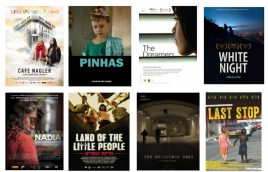 Indiecan Entertainment has launched Jewish Films on Demand (JVOD), a transactional VOD platform dedicated to celebrating Jewish film and TV content.
Created by Indiecan's Avi Federgreen, the newly launched platform offers North American audiences documentaries, short films and features from companies like Israel's GoToFilms.
Documentaries available to rent or purchase include The Dreamers from director Efrat Shalom Danon (produced by Yifat Prestelink Films), the Rehovot International Women's Film Festival's 2011 best doc winner; and Pinchas from director Pini Tavger, 2009 winner of the audience award from the Brooklyn International Film Festival.
JVOD offers content that touches on topics like religion, refugees, war, family and the LGBTQ+ community. More content will be added to the platform as it is acquired, according to Federgreen.
Prices vary from $0.99 to rent a film to as high as $4.99 to purchase content.