2018 Indie List: How eOne reshaped its business
Darren Throop on how the global studio set the table for future growth, prying open the doors between Canada, Hollywood and the world.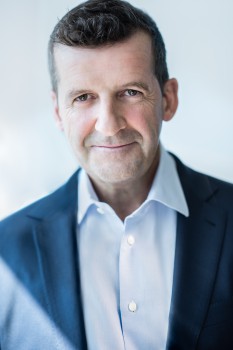 Playback's annual Indie List breaks down industry trends and ranks the biggest-spending Canadian companies. This year we spoke with some of the List's movers and shakers to discuss the strategies and shifts that shaped their businesses in 2017. First up is an interview with eOne CEO Darren Throop.
Entertainment One (eOne) has enjoyed vast growth in recent years. But, in order to continue that trajectory – and fully realize its ambitions as a global studio – senior management decided to recalibrate its operations to ensure its underlying business model remained in step with the marketplace.
The first phase of that transformation began in 2017, with the integration of its film and TV sales units. The move, CEO Darren Throop tells Playback, allowed eOne to align itself with its customer base. Increasingly, the platforms and channels that buy eOne's products are buying both film and TV, so streamlining just made sense, he says.
That change led to talks of another, perhaps even bolder, one.
eOne next consolidated its film, TV and digital production arms into a single unit. The rejig offers it greater flexibility when it comes to working with creative talent, says Throop, given the "seamless manner" in which writers, producers, showrunners and actors move between film and TV in today's landscape.
But, once discussions about how best to run the newly consolidated unit started, the need for two separate management arms became clear: one focused on the creative process (from early development through to production), and a commercial arm to work with the creative teams to package, sell and monetize those properties.
Looking within its ranks, eOne promoted Steve Bertram to lead the commercial arm as president of film, television and digital. And on the content-production side, the company looked to maximize one of the strongest assets in its creative portfolio, The Mark Gordon Company (MGC).
In January 2018, eOne completed its acquisition of the remaining 49% of MGC for US$209 million, naming its founder president and chief content officer of eOne's consolidated film, TV and digital arm.
"It just made perfect sense. We were looking for a creative unicorn and we already had one at the company," he says of the producer behind global hits like Grey's Anatomy, Ray Donovan and Molly's Game.
The realignment also saw John Morayniss, previously president of eOne's TV division, exit the company.
Agent Peter Micelli, former co-head of the TV department at CAA, was brought in shortly thereafter as chief strategy officer. Throop calls Gordon and Micelli a "one-two punch" when it comes to talent and material.
With the table set for future growth, a number of doors between Canada and Hollywood have been pried open. "Gordon] has deep relationships in Hollywood and, as [the Canadian team] continues to source incredible content, he can help them package it, introduce them to writers, showrunners and talent, where perhaps we didn't have those relationships before," says Throop.
That should mean more collaborations between U.S. partners and eOne's Canadian TV arm – headed up by president of Canadian television, Jocelyn Hamilton. Throop adds that eOne's Canadian slate, built under Hamilton's team and including Private Eyes, Mary Kills People and Cardinal, is part of the changing perception of Cancon in the international marketplace. "When we take those shows to the market we're getting world-class pricing for them," he notes.
Last year, eOne also inked a pair of forward-thinking agreements with Canadian companies: a deal with Antica on its podcast network and a partnership with Wattpad that will see it curate ideas from its library of 400 million stories for TV, film and VR projects.
For Throop, these deals speak to the benefits of incubating innovative content in Canada, and represents a new paradigm in which content is mined and developed. "You'll see us continue to pursue opportunities with all kinds of different platforms. It's more important than ever to get involved early in these processes, as it gives us opportunities to share in ownership and use our creative teams to help shape it," he says.
While eOne now sits among the world's largest brands in the film and TV space, Throop says the new structure allows it to remain nimble enough to collaborate fully across its various global units.
"We're truly a global company. And that footprint gives us deep local knowledge and local relationships with the creative community. I think that, as a Canadian business with firm Canadian roots, we need to organize ourselves in a global manner."
Check back tomorrow for our interview with Thunderbird Entertainment.
This story originally appeared in the summer issue of Playback magazine.