2018 Indie List: The Year in Review
Canada's kids biz holds steady in the face of commissioning declines, service work rises and more industry trends from Playback's annual survey.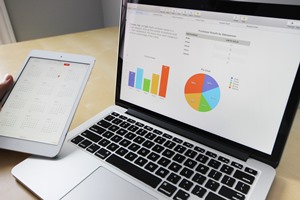 The Canadian film and TV landscape came out of 2017 looking significantly different than it did going in.
There were major changes at the top levels of the broadcasting tree – Randy Lennox became Bell Media president with the departure of Mary Ann Turcke, and Rogers welcomed new CEO Joe Natale – while media conglomerate Kew Media sent a thunderbolt through the industry with its acquisition of five unscripted Canadian prodcos in March, continuing an undeniable trend of consolidation in the non-scripted space. (Boat Rocker also acquired Proper Television, while eOne amalgamated Paperny Entertainment and Force Four under the eOne Unscripted banner.)
The regulatory scene was no less busy. Then-CRTC chair Jean-Pierre Blais caused a stir with the group licence renewals (GLR) for English- and French-language broadcasters. Released in May, the GLR decisions, which set Programs of National Interest spend at 5% of revenues, sparked a backlash from a number of industry organizations, prompting Canadian Heritage to send them back to the commission for reconsideration. As of press time those decisions were still pending.
And how could we not mention the release of the Creative Canada cultural paper? Announced in September 2017, the long-awaited policy gave the industry a mixture of welcome changes (top-ups to CMF funding) and unanswered questions (Netflix Canada, anyone?). It also set the ball rolling on a review of the Broadcasting and Telecommunications Acts, which could have all-encompassing ramifications for our industry for the year(s) to come.
Industry outlook

But through all that upheaval, confidence in the opportunities for domestic indies rebounded in 2017. In all, 27% of respondents said they thought opportunities for Canadian producers were better than ever (compared with just 16% last year), while 24% said they were worse – a significant improvement from 39% a year ago, and perhaps a reflection of the headway local indies are making in the bustling global market. The remaining 49% reported that opportunities remain the same, compared with 45% last year.
As well, there's an increasing appetite for expansion, with 71% of prodcos stating their intention to grow the scope of their business (staff, location) in the year ahead, versus 60% a year ago.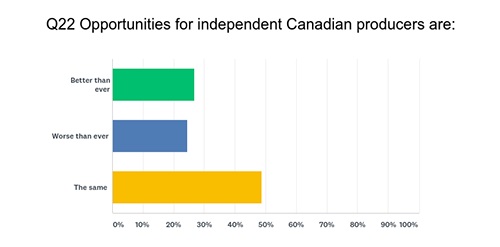 Opportunities and challenges
Producers again identified coproductions/coventures (55%) and international partnerships (62%) as the most promising areas for securing future business. Exploiting existing IP was cited by 36% of respondents as an area of growth (compared with 23% last year), continuing an industry trend toward re-imagining known properties to draw in audiences.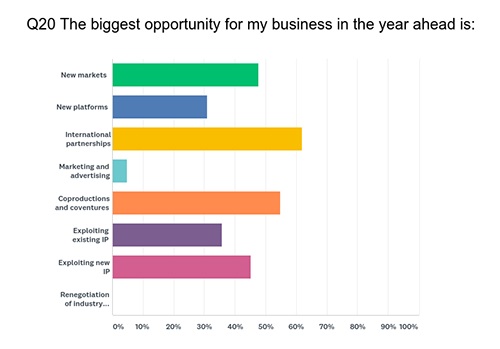 Not surprisingly, prodcos identified budgets and financing as the biggest challenge facing their business (increasing to 69% from 65% last year). There was also a noticeable uptick in the number of prodcos citing staffing (hiring, professional development, competition for talent) as a primary challenge, with 33% of respondents (versus 12% last year) pointing to concerns such as limited availability of crew in high season, and a growing insistence from buyers that projects are packaged with bankable stars and big-name writers.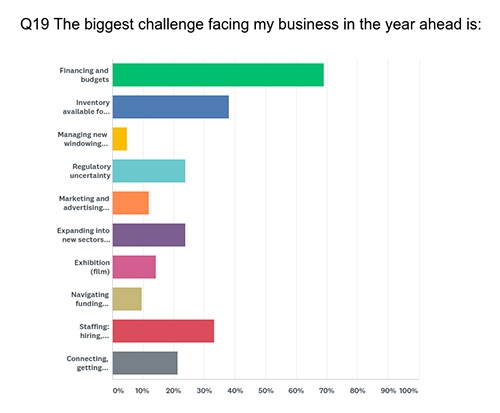 Movers and shakers
Among this year's big climbers is Calgary-based SEVEN24 Films, which leapt up to number three on the list, nearly doubling its year-over-year production spend with projects including hour-long drama Heartland and sci-fi Western Wynonna Earp. Meanwhile, fellow Calgary prodco Nomadic Pictures (#8) clocked up $60 million with its sci-fi-focused slate, including Van Helsing (Syfy) and Ghost Wars (Netflix). Toronto's Shaftesbury (#6), which celebrated its 30th anniversary in 2017, rocketed back up the chart with a pair of primetime CBC dramas – the inaugural season of Frankie Drake Mysteries and season 11 of the omnipresent Murdoch Mysteries – backed up by a diverse roster of projects that included The Carmilla Movie and its 20-part web series Upstairs Amy (with Walmart Canada and Interac). 

Kid-focused prodcos holding steady
While the English-language kids content industry in Canada suffered a challenging year in 2017, many of the country's larger and more diversified firms posted steady year-over-year production spends. The climate continued to be challenging due to a combination of a tough regulatory environment, which has in recent years seen a reduction in the Cancon exhibition requirements for specialty nets, as well as a dearth of domestic greenlighting, leading to a sharp decline in CMF-triggered funding. In total, the amount of English-language kids content produced in fiscal 2016/17 dropped to $419 million, down from $522 million the year before, according to the CMPA's annual Profile report. But whether it was Portfolio Entertainment, which posted more than $23.6 million in spending (including on third seasons of Doki and The Cat in the Hat Knows a Lot About That), or 9 Story Media, which powered up to number five with a career-high $74.8 million spend, prodcos in the space continued to roll with the punches and keep pushing forward. As well, Sinking Ship (#11, $29.6 million) plans to hire 50 more staff in the coming year as it takes on more projects, while marblemedia (#26, $10.3 million) intends to expand its development and marketing teams to support the growth of its production slate – which in 2017 included Just Like Mom and Dad and Super Mighty Makers.
Service work rising
A notable aspect of this year's Indie List was a marked increase in the volume of service work handled by domestic prodcos. Usual suspects Take 5 Productions and Whizbang Films (The Handmaid's Tale) racked up $200.2 million and $74.9 million, respectively, while a number of others upped their service output significantly, including Muse (jumping from $30.4 million to $76.1 million), Thunderbird (which ramped up its service-animation operations, executing a whopping $131 million primarily through Atomic Cartoons), Nomadic ($70 million) and Breakthrough Entertainment ($8.4 million). All told, respondents handled $657.5 million of service work in 2017, compared with $446.8 million in 2016.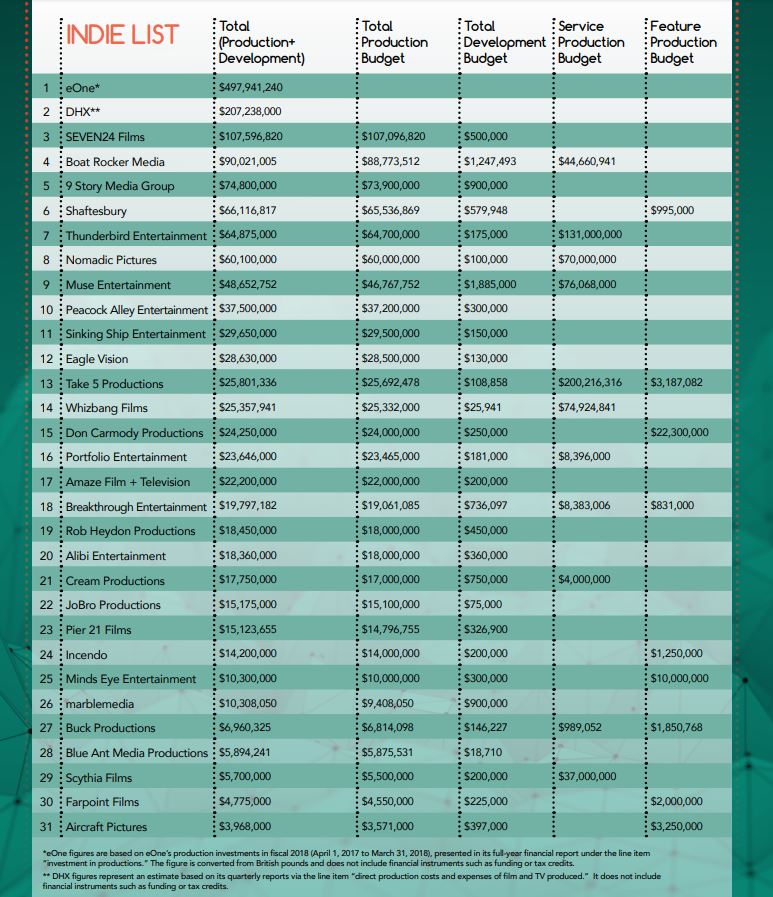 Correction: this story was updated to include Eagle Vision as the #12 production company on this year's Indie List. Eagle Vision was not included in the initial version of the story. Playback regrets the error.
Image: Marc Chouinard/Stocksnap