The Movie Network nabs LaLonde's James Vs His Future Self
The film's global sales agent AMP International also inked a raft of pre-sales in territories including China and Greece.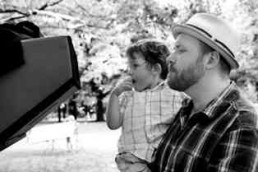 The Movie Network (TMN) has acquired the Canadian TV rights to Jeremy LaLonde's in-production feature James Vs His Future Self.
Northern Banner Releasing, which is handling Canadian distribution, negotiated the deal for LaLonde's fifth feature film. The deal covers the film's post-theatrical TV window.
Meanwhile, AMP International also secured additional pre-sales with China's Huashi, Greece's Odeon, and the Middle East's Front Row at the Cannes Film Market. AMP International is a London, U.K.-based company that opened a Canadian arm in 2016 with a view to producing and financing projects in North America.
Produced by Banana-Moon Sky Films' Jonas Chernick (My Awkward Sexual Adventure), JoBro Productions' Jonathan Bronfman (The Witch) and Neophyte Productions' Jordan Walker (How to Plan an Orgy in a Small Town), the feature follows a scientist determined to time travel, who is visited by an eccentric older man claiming to be his future self. The feature is co-written by Chernick and LaLonde (pictured), whose previous credits include How to Plan an Orgy in a Small Town.
Production on the feature is currently underway in Sudbury, ON, and is expected to wrap in early June.
Chernick stars in the feature along with Daniel Stern (Home Alone), Cleopatra Coleman (The Last Man on Earth), Tara Spencer-Nairn (Corner Gas) and Tommie-Amber Pirie (The Go-Getters). Six-time Emmy nominee Frances Conroy (Six Feet Under) recently joined the cast.