In brief: Netflix boards Canadian Academy's apprenticeship program
Plus: The Toronto Screenwriting Conference announces its Magee TV winners, Cineplex gives Sharkwater: Extinction a fall release and Deluxe adds to its Vancouver team.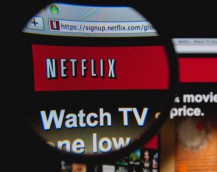 The Academy of Canadian Cinema & Television brings back its Apprenticeship for Women Directors program
The Canadian Academy's Apprenticeship for Women Directors program is set to return for a second year, this time with Netflix as a principal partner. The six-month program, which aims to support emerging female directors from across the country, provides training and professional development opportunities. Thanks to the streamer's sponsorship, the program will this year be opened up to French-language participants. Two of the eight selected participants will be Francophone. The program includes access to discussions with industry filmmakers, a one-year membership to the Canadian Academy, a conference pass to TIFF and a two-day summit meeting with industry execs at the fest. Applications for the program open on May 18 and will be reviewed by a group of diverse directors, producers and executives who will identify a short list of 12 applicants by August 6, 2018. Following the short list, applicants will participate in interviews with the selection committee, with the program's finalists announced in late August. 

Toronto Screenwriting Conference announces Magee TV winners
The Toronto Screenwriting Conference has named the six winners of the conference's second annual Magee TV Diverse Screenwriters Award. The Magee award, which is given to emerging and mid-level screenwriters with diverse backgrounds, is a mentorship and bursary program dedicated to assisting screenwriters network. The six winners selected are Cara Lynn Branch, Elene Mekete, Ian Steaman, Murry Peeters, Rebecca Grenier and Veronika Paz. As part of the prize, each winner will be able to attend the two-day conference, will attend several networking events and will receive a one-on-one three-month mentorship with senior Canadian screenwriting professionals. The mentors taking part this year are screenwriters Alejandro Alcoba, Marsha Greene, Duana Taha, Pat Mills, Noelle Carbone and Eva Thomas. Applicants submitted one concept for an original series or feature film, one writing sample, a letter of interest and intent and a reference letter. The ninth annual Toronto Screenwriting Conference will take place from June 23 to 24 in Toronto.
Cineplex to release Sharkwater: Extinction this fall
Cineplex Entertainment is set to release a tribute to Rob Stewart ahead of the late filmmaker's third feature, Sharkwater: Extinction, which opens in Cineplex theatres on Oct. 5. Produced by Stewart, Sandra Campbell and Brian Stewart, Extinction follows Stewart trying to bring attention to the multi-billion dollar illegal shark fin industry and the corruption behind the market. Patrice Theroux is an exec producer on the project. Stewart was a conservationist, biologist, activist and filmmaker who died during a diving accident while filming Extinction, the follow-up to his 2006 doc, Sharkwater. The tribute was created through a partnership between Cineplex and Sharkwater Productions. Michael Kennedy conceived of the idea for the tribute, which will include footage of the late filmmaker and a song performed by Canadian singer-songwriter Chantal Kreviazuk.
Deluxe hires new Vancouver studio head

L.A.-headquartered Deluxe Entertainment Group has hired Steve Garrad to head its Vancouver studio. In his new role, Garrad will oversee day-to-day operations for the company's VFX arm Method Studios and TV post/VFX brand Encore. He will work closely with his global counterparts at Method and Encore's studios, while reporting to Deluxe VFX president Ed Ulbrich. Garrad previously served as a VFX producer on upcoming feature The Meg (Warner Bros.), in addition to working as an exec VFX producer at London, U.K.-based Double Negative and as a VFX exec producer at Vancouver's Image Engine.
Stingray lands deal to make companion app for The Voice
Montreal's Stingray has landed a five-year deal to create a singing mobile app for Talpa Media's singing competition series, The Voice. Under the agreement, Stingray will develop, publish and market the app, which is set to be launched worldwide in December 2018. The free app will include features like a pitch guide to allow singers to sing on key, the ability to record duets with friends who use the app, an AI-powered song recommendation engine, a catalogue of songs and other features. The app is expected to be available to download from the Apple and Google Play stores. The deal was brokered by Talpa Media's licensing agency for mobile rights, Evolution USA.