Seven24, Nomadic, Spotlight earn Rosies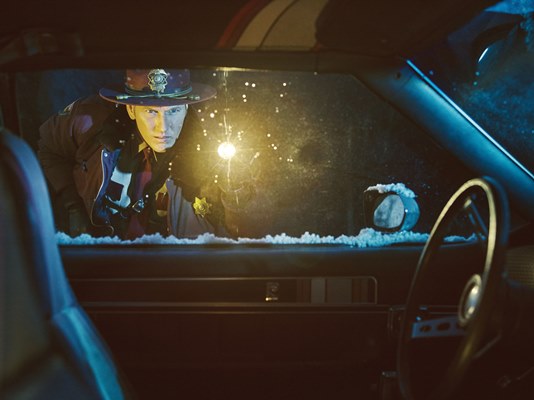 Fargo picked up best international coproduction, while Heartland and Living Proof were also recognized at the 44th annual awards.
Calgary's Seven24 Films and Nomadic Pictures were two of the big winners at the 44th annual Alberta Film & Television Awards on Saturday (May 12).
Seven24 Films' CBC drama Heartland took home the Rosie Award for best dramatic series, while the show's Ken Filewych was awarded for best director in a drama over 30 minutes.
Meanwhile, FX's Fargo (pictured), which is service produced by Nomadic, won the award for best international coproduction. In addition, the show's Craig Wrobleski picked up the best cinematographer award, while Carol Case won for best costume design and Bill Ives won for best production designer/art director.
Nomadic also took home awards for its Ghost Wars and Van Helsing. Frank Laratta earned best overall sound in a drama over 30 minutes for Ghost Wars, while Bridget Dumford was named best editor in a drama over 30 minutes for Van Helsing.
Living Proof from Calgary's Spotlight Productions was another big winner, walking away with five awards. The project won best documentary over 30 minutes, while the prodco's president Matt Embry scored best director in non-fiction over 30 minutes. Embry and Tyler McLeod were also named best screenwriters. Living Proof's Adam Naugler and Steve Dierkens  won best overall sound, non-fiction over 30 minutes, while Todd Langille, Dean Evans, Jordan Bosch, Mike Kraft and Allan Thrush were awarded best editor, non-fiction over 30 minutes.
Meanwhile, the NFB was recognized for Skin for Skin, produced by Bonnie Thompson. The project picked up best animated production or series, while Kevin D.A. Kurytnik and Carol Beecher nabbed best director, drama under 30 minutes.
With over 70 credits, Thompson, a veteran NFB producer, was also awarded the 2018 lifetime achievement award for her work on numerous documentaries.
In addition, Cam Christiansen walked away with the award for best animator/motion graphic artist for his work on the NFB's Wall.
Edmonton-based Atraeon Productions won for its short Indra's Awakening. In the drama under 30 minutes category, Kellen Frost snagged best screenwriter and best editor, while David Baron and Moh Mahfouz took home best cinematographer.
In the acting categories, Kim's Convenience's Andrew Phung took home best performance by an Alberta actor, while Julie Orton won for her work on Everfall.
In the web series categories, best fiction went to Abigaelle et le date coaching, produced by Far West Productions. Meanwhile, the Calgary Police Service's Cost of Crime won best non-fiction web series.
Other winners from the night include Sel et diesel (produced by Corey Loranger, Jessica L'Heureux and Benoit Pellerin from Far West Productions) for best information or lifestyle series; Red Earth Uncovered (produced by Peter Strutt and Lori Louis) from Sagacious Media for best documentary series; Thousand Yard Stare from Rambunxious Entertainment for best dramatic feature or made-for-TV movie; Peak Oil from Truthful Work Productions for best dramatic short; Last of the Fur Traders from Open Sky Pictures for best production reflecting cultural diversity; Tiny Plastic Men (Mosaic Entertainment) for best comedy production or series; and Radiant Goes to Court from Bear Paw Communications for best children's program or series.
Image: Mathias Clamer/FX