Hulu picks up Wattpad hit
The U.S. streamer has given a 10-episode order to the thriller Light as a Feather, with Wattpad's Aron Levitz (pictured) and Eric Lehrman among the exec producers.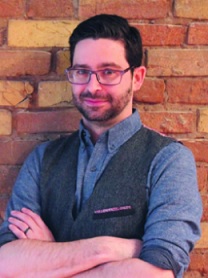 Hulu has found its next series on Toronto's user-generated story platform Wattpad.
The U.S.-based streaming service has given a 10-episode, straight-to-series order to the Wattpad story Light as a Feather, based on Zoe Aarsen's supernatural thriller of the same name.
The project is a joint venture between Wattpad Studios, California-based AwesomenessTV and U.S. actor Kelsey Grammer's prodco Grammnet. The greenlight marks the first time that Hulu has picked up a Wattpad story, with production scheduled to begin next month in L.A.
Light as a Feather follows five teenage girls as they deal with the supernatural fallout stemming from an innocent game. As the girls start dying off in the manner predicted by the game, the survivors must figure out why they are being targeted. It has been read more than 2.9 million times on Wattpad.
Executive producers on the project are Wattpad's Aron Levitz (pictured) and Eric Lehrman, AwesomenessTV's Jordan Levin, Shelley Zimmerman, Joe Davola and Brett Bouttier and Grammnet's Tom Russo, Brian Sher and Stella Bulochnikov. Kailey Marsh is a co-producer.
Wattpad also announced yesterday that a screen-based adaptation of another of its stories, After, is moving forward. The project, based on Anna Todd's young adult novel of the same name, is a partnership between CalMaple Films, Voltage Pictures, Diamond Films, Wattpad and Offspring Entertainment. Julia Goldani Telles (The Affair) and Hero Fiennes Tiffin (Harry Potter and the Half Blood Prince) have been cast as leads in the feature. After started out as a Wattpad story and was later published as a novel in a number of international territories. On Wattpad, After has reached more than 456 million readers, while its follow ups, After 2 and After 3, have 390 million and 685 million reads, respectively.
The project is produced by CalMaple's Mark Canton and Courtney Solomon, Offspring's Jennifer Gibgot and Wattpad's Levitz and Anna Todd. Voltage is shopping the feature at the Cannes Film Festival, which got underway earlier this week.
Last month, Wattpad announced that it was expanding its operations to Asia, hiring Dexter Ong to lead operations in the region. Based in Hong Kong, Ong is responsible for collaborating with local producers, writers and studios to develop and produce film, TV, digital and print adaptations of Wattpad stories for the Southeast Asia market.