Deals: Boat Rocker, TMN, Blue Ice, Kew Media
Boat Rocker Rights sells Bitz & Bob (pictured) abroad, Blue Ice Docs picks up Canadian rights to The Silence of Others, plus more.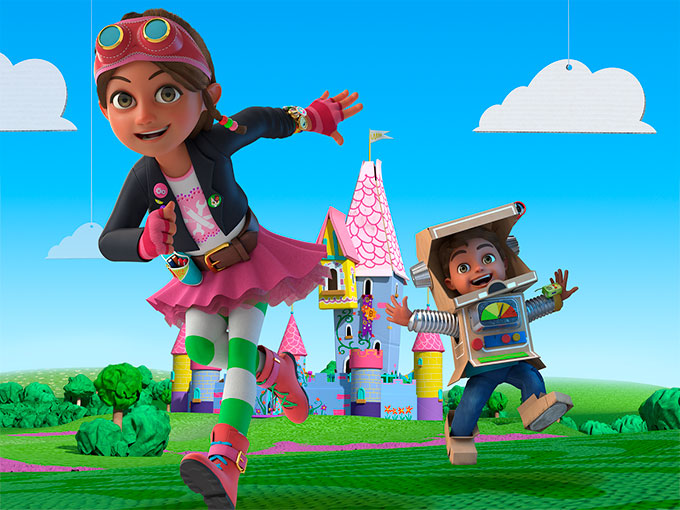 Boat Rocker 
Boat Rocker Rights has sold animated STEM series Bitz & Bob to broadcasters in Canada, Asia and Europe. The BBC Children's/Boat Rocker copro will bow later this year on TVO and Knowledge Network (Canada), EBS (South Korea), SVT (Sweden), NRK (Norway), YLE (Finland) and Hop (Israel). (France Television and Fox Latin America have previously picked up the series.) Bitz & Bob (44 x 11 minutes) follows eight-year-old Bitz and her energetic younger brother as they explore the principles and science of engineering. The toon premiered on U.K. pubcaster CBeebies this past March. Created by Daniel Bays, Bitz & Bob is animated by Jellyfish Pictures and executive produced by Vanessa Amberleigh (CBeebies) and Bob Higgins (Boat Rocker).
Cineplex
L.A.-based Electric Entertainment has partnered with Cineplex for the Canadian theatrical rights to Bad Samaritan. Produced by Electric Entertainment, Bad Samaritan follows two thieves who get more than they bargained for when they break into a house that they thought was an easy score. The feature is set to be released theatrically on 75+ screens across Canada on May 4. Producers on the project include Electric's founder and CEO Dean Devlin, co-founder and partner Rachel Olschan-Wilson and the prodco's founding partner Marc Roskin. Electric Entertainment is handling the domestic distribution of the feature. The deal was brokered by Electric's Nolan Pielak, SVP international distribution and coproduction, and Michael Kennedy, EVP of filmed entertainment at Cineplex. Bad Samaritan stars David Tennant (Doctor Who), Robert Sheehan (Genius), Kerry Condon (Three Billboards Outside Ebbing, Missouri), Carlito Olivero (Step Up: High Water) and Jacqueline Byers (Salvation).
Kew Media
Toronto-based media company Kew Media Group has acquired the worldwide sales rights to six non-fiction films prior to the Cannes Film Market. The company has acquired Nothing Like a Dame (directed by Roger Michell, Notting Hill), which follows the lives and careers of actresses Eileen Atkins (The Crown), Judi Dench (Philomena), Joan Plowright (Enchanted April) and Maggie Smith (Downton Abbey). It also picked up One Million American Dreams from Brendan J. Byrne (Bobby Sands: 66 Days). Narrated by actor Sam Rockwell, the film is about the Hart Island cemetery, the final resting place of over one million of New York's unclaimed dead. Director Katie Brooks' The Last Animals also joins Kew's slate. The feature details the killing of African elephants and rhinos and follows the conservationists, park rangers and scientists working to protect these animals. Dealt, directed and co-written by Luke Korem (Lord Montagu) and writer Bradley Jackson, follows the life of renowned 62-year-old card magician Richard Turner (Crunch Time), who has lost his vision. Paranormal investigator Zak Bagans (Ghost Adventures) documents a demonic possession case with a team in Demon House. Lastly, Kew acquired Bachman, directed by Farpoint Films' John Barnard (Menorca), which tells the story of rock icon Randy Bachman, who founded Canadian rock group Bachman Turner Overdrive.
Blue Ice Docs
Toronto-based Blue Ice Docs has acquired the Canadian rights to Almudena Carracedo and Robert Bahar's doc The Silence of Others. The doc is a copro between Semilla Verde Productions, Lucernam Films, American Documentary, San Francisco's Independent Television Service (ITVS) and Burbank, CA-based Latino Public Broadcasting (LPB), in association with Spain's El Deseo. Filmed across six years, The Silence of Others follows the victims of those living under the 40-year dictatorship of Spain's General Franco. The doc made its world premiere at Berlinale in February and recently made its North American premiere at Hot Docs. Blue Ice Docs' Robin Smith is handling the Canadian rights to the doc. In addition, France's Sophie Dulac Distribution also picked up the rights for France. The Silence of Others was made with funding from Bertha Foundation and Corporation for Public Broadcasting (CPB) and the participation of Blue Ice Docs.
The Movie Network
Bell Media's The Movie Network has secured a number of extensions on its existing output deals with U.S. movie studios. The Pay TV service has signed new Canadian first-window rights deals for film titles from eOne, 20th Century Fox, Fox Searchlight Films, Universal Pictures, Focus Features and Warner Bros. International Television Distribution. The service has also acquired the offline viewing rights for films from these studios for The Movie Network's streaming platform TMN GO. As previously announced, Bell Media also entered into a long-term agreement with Lionsgate to distribute Lionsgate's future theatrical releases in Canada in a first pay window, as well as bringing the Starz brand to Canada.
With files from Kidscreen